Panel Ornaments for Ceremonial Sword and Sheath (Udamalore)
On view at The Met Fifth Avenue in Gallery 376
These panel ornaments are parts of the Ceremonial Sword and Sheath (Udamalore) 1993.500.2a, b.

Elaborately adorned ceremonial swords known as 'udamalore' comment upon the exalted status of high-ranking Owo chiefs. The delicately carved ivory sword is housed in an intricately beaded sheath and worn horizontally on the left hip during yearly festivals. The 'udamalore' announces its owner as a famous and respected person of high rank who has power and influence in the affairs of the community. It further signals that the wearer is "well-born," meaning he hails from a respected family and is a leader prepared to meet life's challenges.

Due to its exquisite artistry, the sword and its sheath are a main focus of aesthetic interest during festivals. The summit of this and other 'udamalore' features a representation of a chiefly figure wearing a traditional 'ibolukun' skirt on top of which, on his left hip, hangs an 'udamalore.' The bare-chested figure grips another larger sword in his right hand, a sword of authority known as an uda. A pattern of linear incising that appears on his chest and arms is probably a sign of initiation and high status. Thus, in a dazzling display of complexity, the sword, a symbol in its own right, contains within it representations of representations. The choice of ivory as a material is itself significant. This local resource was the basis of a lucrative ivory trade, and consequently became associated with wealth within the region. Also, among the Yoruba, ivory is considered indestructible due to its association with the mightiest being of all—the elephant. The elephant is the king's counterpart in nature; both are strong, prestigious, and without equal in their respective realms.

The ornate beaded sheath and its accompanying panels include symbolic imagery. The top surfaces are completely embroidered with glass beads representing rams' heads, monkeys, human figures, birds, and interlaced knot motifs. The ram is an icon of leadership among the Owo-Yoruba, and second only to the elephant in terms of importance. The ram is conceived of as a powerful combatant and is a metaphor for alertness, strength, and aggressiveness. It is also associated with protection of families. Monkeys are often portrayed as cunning tricksters admired for their wit along with their deceit. The use of the monkey image on this sheath may refer to the owner's own wit and audacity. Glass beads, like ivory, were an expensive material used in trading that implied wealth and elite status. Unlike ivory, however, the glass beads did not originate in the area. Beads were imported from Europe and the Middle East and then reworked to Yoruba specifications.

The colors of Yoruba beadwork operate not only on an aesthetic level, but also reveal the underlying nature and character of the personages depicted. Complex Yoruba color theory defines three chromatic groupings: pupa, funfun, and dudu. The basic groupings are red, white, and black respectively, yet each group includes a range of colors and hues. Evocative associations of temperament distinguish one chromatic group from the other. Pupa—reds and oranges—are the dominant colors of this sheath and are associated with blood, the heat of battle, and aggressiveness. Their inclusion in this piece evokes Ogun, the Yoruba god of iron and war. The warmth and heat of pupa is balanced by funfun highlights—whites, silvers, and pale grays—which evoke coolness or coldness and are associated with age and wisdom. Bridging the gap between these extremes are the mediating, moderating qualities evoked by dudu, dark and generally cool colors as found in the depictions of the black rams' heads, the green human figures, and the blue chameleons.

Within Yoruba society, separate, specialized workshops are responsible for ivory carving and beadwork. Beadworking appears to be a collaborative effort by both men and women. Men take responsibility for the melting or rough shaping of the bead form, while women shape, polish, and string the beads. Ivory workshops have a long history of working for elite patrons in this region. In addition to swords such as this, these workshops were responsible for exquisitely carved bracelets, divination tools, and sculptural representations. Ivory swords continue to be used by chiefs in contemporary Owo society and are often passed from father to son along with a title.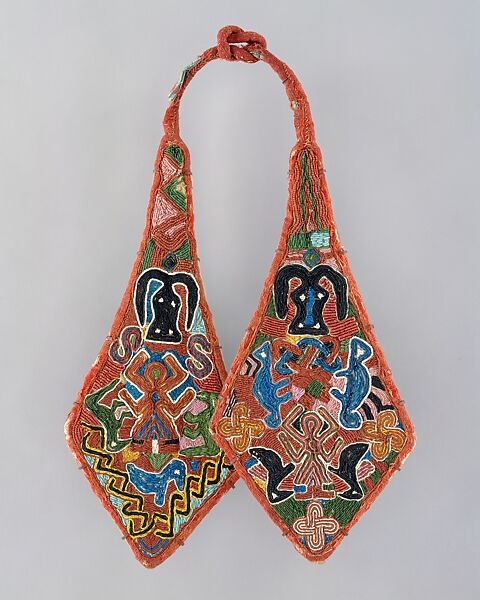 This artwork is meant to be viewed from right to left. Scroll left to view more.