Breastplate with Tassets
On view at The Met Fifth Avenue in Gallery 373
Originally this armor would have included a matching helmet, arm defenses, and gauntlets. Although finely decorated, it was designed for practical use and probably belonged to a courtier serving in the armies of the Habsburg Empire. Its inventive and lively designs, particularly the winged cherub heads on the knees, embody the fruitful cooperation between armorers and etchers at the time. Early sixteenth-century armor with large-scale figural ornament is so rare that nothing closely comparable to the present example has appeared on the art market since the 1920s. Although unsigned, this armor falls closely within the circle of Kolman and Desiderius Helmschmid and Matthias Frauenpreiss, leading Augsburg armorers who worked for the imperial court, and the notable etchers associated with them, such as Daniel Hopfer.

The armor comprises a globose breastplate with medial ridge and turned and roped borders at neck and outer edges of the movable gussets; pivoted waist plate with single skirt lame attached. On the skirt lame there are two turning pins to attach the fauld, consisting of three lames, and upper tassets, consisting of five lames. On the lowest lame of each upper tasset there are two turning pins to attach the lower tassets, consisting of seven lames. The upper edges of the skirt, fauld, and tasset lames are cusped. The arch at the center of the lowest fauld lame is turned and roped, as are the bottom edges of the knee lames. At the top of each gusset there is a double buckle for a shoulder strap. There are two holes for a lance rest on the proper right side of the breastplate and a pair of lacing holes at the center top of the breastplate just below the roped border. The center of each knee lame features a large winged cherub head represented in low relief with complex etched detailing in the face and feathers. A leaf motif repeats across the top of the breastplate, along the gussets, and across the bottom edge of the knee lames above the roped border. This motif consists of a sunken recurved band decorated with etched circles, forming the midrib of the leaf, surrounded by cusped and curly lobes represented in etching with a dotted ground. The outer edges of each skirt, fauld, and tasset lame have a three-part border formed by a plain sunken band, a repeating raised semicircle filled with an etched leaf pattern, and an incised roping pattern.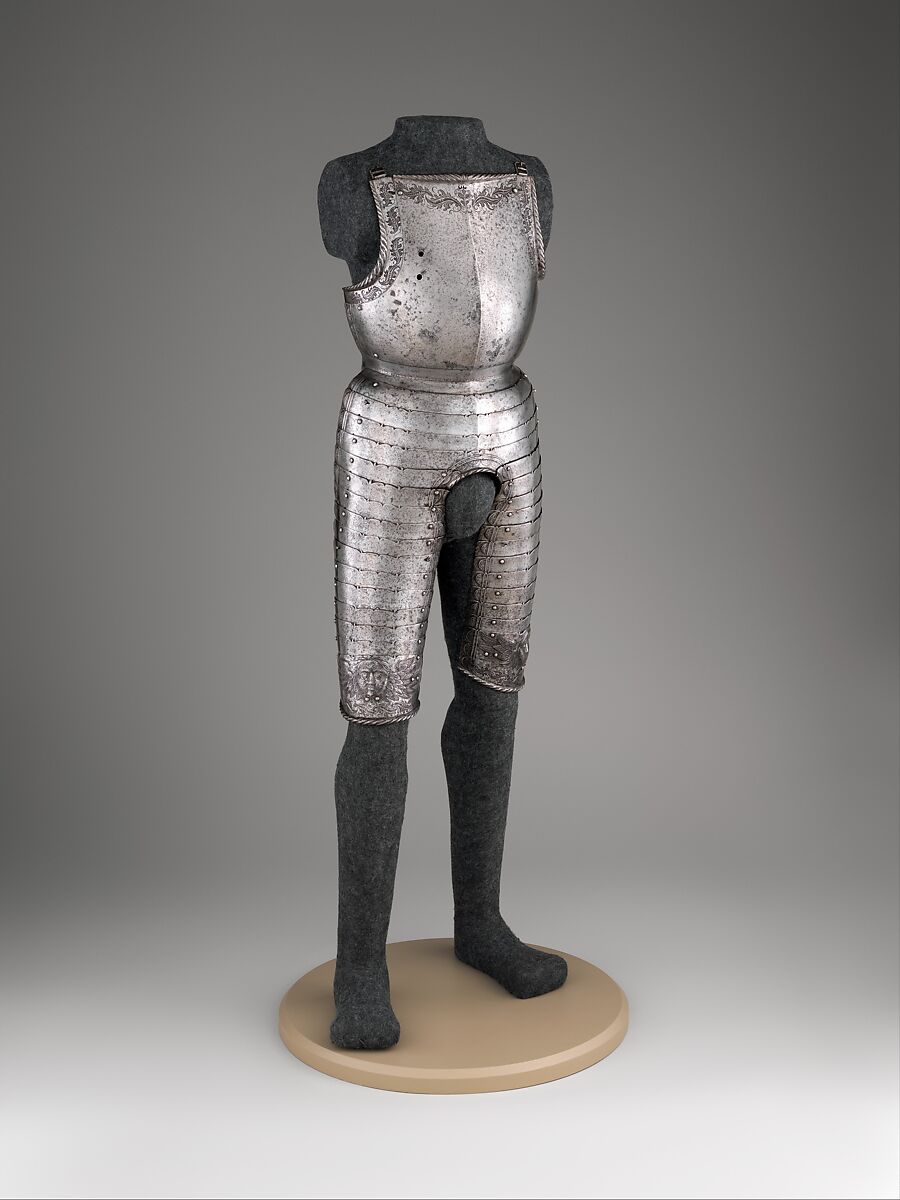 This artwork is meant to be viewed from right to left. Scroll left to view more.