American Helmet Model No. 7, Sentinel's Helmet
Manufacturer W. H. Mullins Co. American

Not on view
This helmet was designed by Dr. Bashford Dean between 1917 and 1918 as part of a series of experimental prototypes during World War I. Among the fifteen numbered helmet types developed in the Armor Shop at the Metropolitan Museum of Art for the US Government, this type, Model No. 7, is the most immediately recognizable as being derived from earlier European helmets, combining the constructions features of a late fifteenth century Italian armet with the weight and mass of an early seventeenth century seige helmet. Dean designed this helmet for specific and limited use in dangerous forward positions where there was imminent danger from close range machine gun and rifle fire. The helmet successfully performed as Dean designed it to, but the model was rejected by the army due to its weight. According to Dean (Helmets and Body Armor in Modern Warfare, 1920, p. 218), only forty specimens of this helmet type were made of ballistic metal, making the present example particularly rare.

The helmet is made of four steel plates painted green: one plate forms the brim and front half of the skull; another plate forms the rear half of the skull with a tail in the center of the back that extends down to the base of the neck; the sides of the helmet are formed by two shaped cheek pieces that overlap each other in the front and overlap the edges of the tail piece at the center rear. The skull plates are joined by rivets; the cheek pieces are riveted to a single horizontal hinge at either side of the helmet at the base line of the skull. Two ventilation holes are formed by a solid semicircular flap near the front of each cheek piece beneath the vision slit. The cheeks were originally held closed by a tab at the base of the front of the proper right cheek that engaged a short post or stud at the base of the front of the proper left cheek (the tab is broken and partially missing). A tinned metal brow band encircles the interior circumference of the skull for attachment of the lining pads. These consist of three padded cushions made of quilted textile inserted in a canvas and leather pouch. Each pouch has two tabs with grommeted holes at the top for a string or cord to adjust the fit of the lining pads. One pouch is largely intact and attached; a second pouch is attached but damaged and missing one tab; the third pouch is completely detached.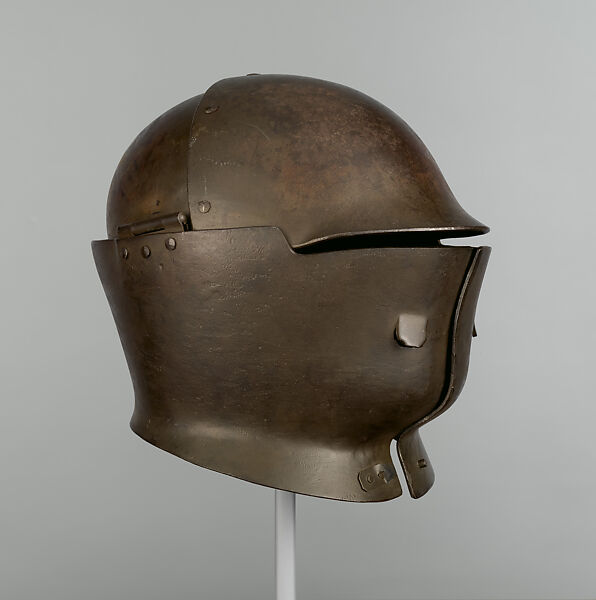 This artwork is meant to be viewed from right to left. Scroll left to view more.