American Helmet Model No. 5
Manufacturer Hale & Kilburn Company American

Not on view
Among the fifteen numbered helmet ptototypes developed by Bashford Dean in 1917 and 1918 in the Armor Shop at the Metropolitan Museum of Art for the US Government during World War I, this type, Model No. 5, was considered by Dean to be the most successful in terms of its defensive qualities, functionality, wearability, and practicality for mass production. According to Dean (Helmets and Body Armor in Modern Warfare, 1920, p. 216) "several thousand specimens were manufactured" by Hale and Kilburn Company of Philadelphia. Much to Dean's disappointment, after limited field testing at the front in 1918, Model No. 5 was rejected by the army because its appearance was said to be too similar to the German helmet and not dissimilar enough from the British helmet.

The helmet is a fully finished factory-produced prototype. It is made from a single sheet of steel; the outer rim is turned over and folded under. The exterior and interior are painted green, the paint on the exterior being mixed with a particulate material (possibly saw dust) to give the surface a roughened texture. The bowl has a rounded form that slopes gently to a blunt V-shaped brim in the front and flares slightly at the sides and back. A suspension system is riveted to the interior of the bowl. This consists of a leather brow band that encircles the interior circumference of the bowl; three pads made of leather and textile are stitched to the band; each pad has two grommeted tabs at its top for a lace to adjust the fit at the top of the head; the leather chin strap passes through two metal loops, one riveted to either side of the interior of the bowl just above the lining band.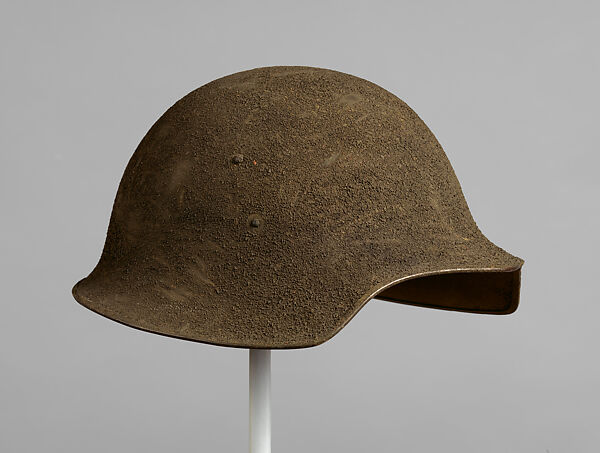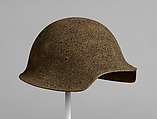 This artwork is meant to be viewed from right to left. Scroll left to view more.