T-29 Prototype Right Greave (Shin and Calf Armor)
Armorer Leonard Heinrich German
Designer Stephen V. Grancsay American
Armorer The Metropolitan Museum of Art, Armor Workshop American

Not on view
Comprised to two plates, unpolished and rough from the hammer, in the form of a European greave of ca. 1525-50, covering the shin and calf of the right leg from the base of the knee to the top of the foot. The plates are joined by two hinges on the outside of the leg and closed by two studs engaging two corresponding holes on the inside of the leg. There is a single stud or pin at the top center of the front plate, by which the top of the greave is attached to the bottom plate of the corresponding knee defense (also T-29). There is a vertical staple at the top center of the rear or calf plate, which would secure the canvas strap on the lowest lame of the knee defense when that strap was buckled around the leg. There is a paper tag that reads: "#22 GROIN/ ENGINEERS/ GREAVE."

The greave was probably made by Leonard Heinrich in the Armor Shop of the Metropolitan Museum of Art under the direction of Stephen V. Granscay. See the related abdomen, groin and thigh defense, T-31, and knee defense, T-29. Presumably there was matching cuisse (defense for the front of the thigh) connecting the components of T-31 with the knee and shin assemblage of T-29, which would have been numbered T-30.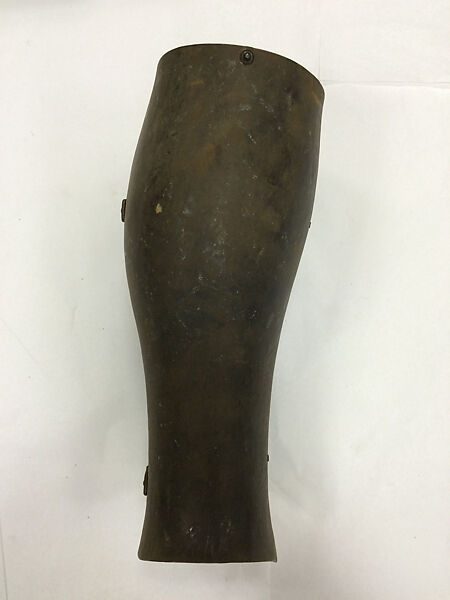 This artwork is meant to be viewed from right to left. Scroll left to view more.