Model T-21 E2 Helmet Prototype
Armorer Leonard Heinrich German
Armorer The Metropolitan Museum of Art, Armor Workshop American

Not on view
Contoured nearly hemispherical helmet bowl forged from a single piece of aluminum, the bottom edge flaring out to form a slight peak in the front and a brim around the circumference. There are two small rectangular metal loops riveted to either side of the bowl for the attachment of a chin strap (no chin strap present). The bowl is hand hammered and has not been polished smooth, leaving hammer marks overall, but more prominently on the interior. The exterior surface has light abrasions and scratches. Written in black ink or paint on the rear of the interior: Helmet T21 E2/ .092 Aluminum NON BALLISTIC/ Wt. 1 lb 7 oz/ The Metropolitan Museum of Art, NY/ May 23, 1945.

The following description of the T21 helmet model comes from an officially restricted publication, Helmets and Body Armor, Office of the Chief of Ordnance (Washington, D.C., n.d. [1945?]), p. 34: "Designed to reduce the size of helmets [i.e. the Model M1] for ground force use, without any sacrifice of the protective area, the shape of the T21 helmet is based on anthropometric studies of the contour of the human head. This helmet is the smallest size that can be provided with a liner. It is shaped so that at all points on the body of the helmet there is a curvature in both directions, thus making a stronger, more protective helmet than is otherwise possible. Status: Development models. Weight…2 lb., 2 oz. (without liner)."

It should be noted that in addition to making this T21 prototype in 1945, in 1940 or 1941 Leonard Heinrich also made an original prototype model designated TS-2, the next stage of which, the TS-3, was adopted as the classic M1 helmet used by US forces throughout WWII (see Chris Armold, Steel Pots: The History of America's Steel Combat Helmets, San Jose, 1997, especially pp. 80–83). The T21 was intended as a refinement of the M1. According to Armold (p. 156), several examples of the T21 were made [in ballistic steel] and tested, but the helmet did not make it into production.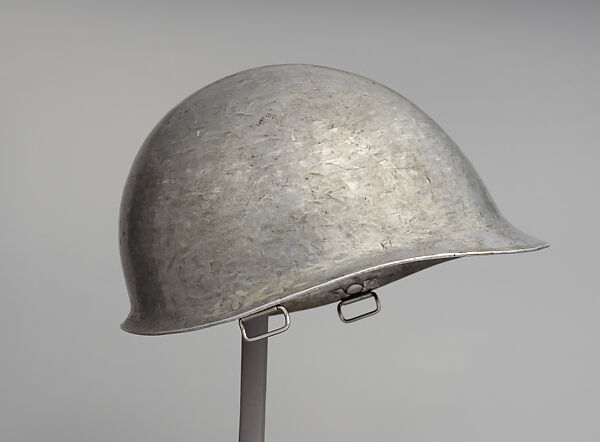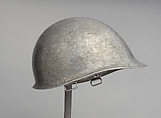 This artwork is meant to be viewed from right to left. Scroll left to view more.