The Vision of Ezekiel; a group of corpses and skeletons emerging out of tombs, above them five winged putti holding a banderole
Giorgio Ghisi Italian
After Giovanni Battista Bertano Italian

Not on view
Large and dramatic, this engraving depicts the prophet Ezekiel's vision in the Valley of the Dead when he saw vast numbers of the people brought back to life. As recorded in the Book of Ezekiel from the Old Testament, the prophet was brought to a valley filled with dry bones and commanded to prophesize over them. As he did so, 'there was a noise, a sound of clattering; and the bones joined together. I looked, and saw that they were covered with sinews; flesh was growing on them and skin was covering them . . . .' (Ezekiel 37:7-8). The Biblical passage is represented here with great imagination. Set in a darkened valley the bones appear to be organizing themselves, joining up to form animated skeletons, and gradually taking on flesh.
At either side of the print are sealed tombs and between them others from which skeletons emerge. The tomb at the right with female figures at each corner seems to have been inspired by the tomb designed by Giulio Romano (ca 1529) for Pietro Strozzi in the basilica of S. Andrea in Mantua. The designer of the print, Giovanni Battista Bertani, was from Mantua and a pupil of Romano. This is an early proof impression of the print before an inscription was added to the banderole held by putti in the upper section.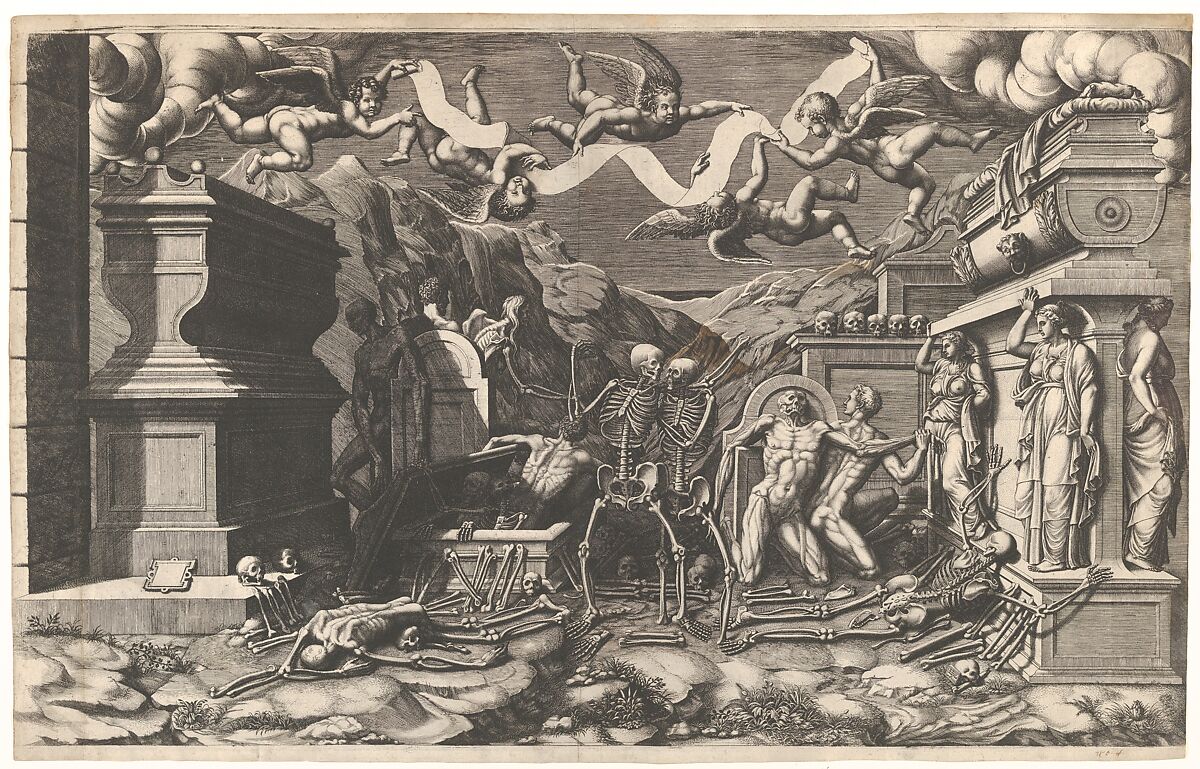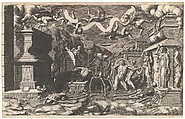 This artwork is meant to be viewed from right to left. Scroll left to view more.