King Dasaratha and His Retinue Proceed to Rama's Wedding: Folio from the Shangri Ramayana Series (Style II)
India, Punjab Hills, kingdom of Mankot
Not on view
King Dasaratha is surrounded by his army, traveling to the court of King Janaka in preparation for the weddings of his four sons. The Ramayana tells us that they carried a wealth of gems as wedding gifts. This folio was likely painted at the court of Jammu or possibly Basohli, whence the style derives. The robust yellow ground is a hallmark of this series.



About the Artist



Bahu Masters

Active at the court of Bahu, Jammu region, ca. 1680–ca. 1720; possibly father and son or two brothers



The Ramayana, an extensive series that tells the story of Rama and Sita, serves as the first point of reference for the oeuvre of these two masters at the court of Bahu, located near Jammu in the Pahari region. The manuscript, which originally consisted of more than 279 illustrated folios, exhibits stylistic variants suggesting that different painters worked on it at different times (and possibly even in different places). The pioneering scholar of Pahari painting William Archer was the first to distinguish four distinct styles in this vast work. While the folios that illustrate the first part of the epic are rendered in Styles I and II, the last parts of the story were painted in two disparate styles, a feature not uncommon in larger picture series that, we can assume, were produced over an extended period of time.



The world evoked in the pictures in Styles I and II, attributed to the first and second Bahu masters, is self-contained. Stylized fields of color and delicately executed patterns dominate in these works, which are related to the earlier pictures by Kripal and Devidasa in their color aesthetic. Here, stylized colors combine with thickly applied shell-lime white alternating with pricked gold.



To enhance the effect of the monochrome ground, the first Bahu painter frequently omitted a horizon line. His architectural elements have a purely decorative quality, while all his figures are related directly to the action; they recite, listen attentively, place a hand on a neighbor's shoulder, or gesticulate. The second Bahu master shares the same color sense, but his picture elements are arranged more carefully. Certain facial types borrow from the repertoire of the first Bahu master (although with more rounded eyes). The narrative's immediacy is broken by the horizon line inserted high above the picture, as though the painter wished to set the story of the gods in a recognizably earthly realm.



On the basis of stylistic indicators, other works that are not from the Ramayana series discussed here can also be attributed to both painters, notably pictures for musical scores (ragamalas) as well as princely portraits. One can assume that both the first and second Bahu masters were working in the same atelier and in all probability were related, possibly father and son, or brothers.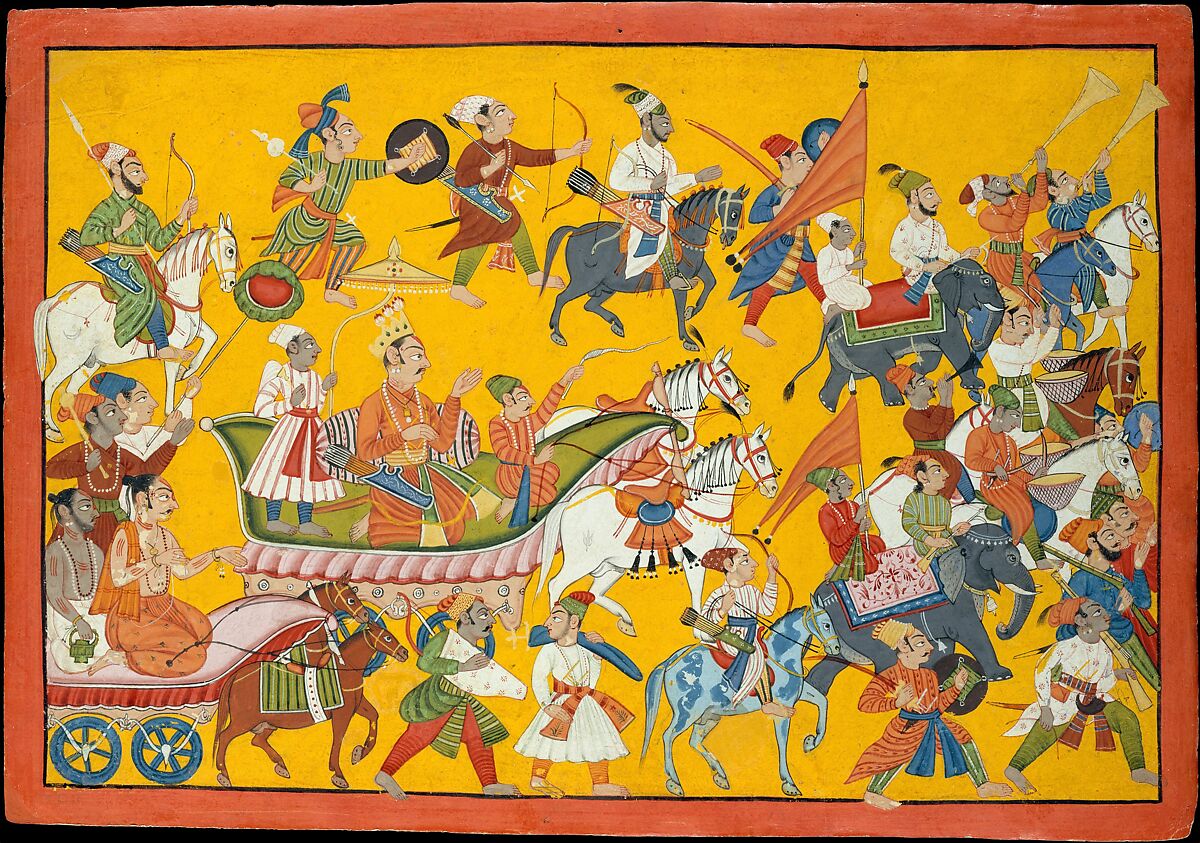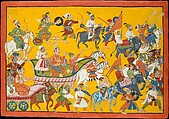 This artwork is meant to be viewed from right to left. Scroll left to view more.