Bodhidharma crossing the Yangzi River on a reed
Li Yaofu Chinese

Not on view
Bodhidharma was the legendary Indian patriarch who brought Chan Buddhism to China. After an unsuccessful audience with the Chinese emperor Liang Wudi (r. 502–49), Bodhidharma "broke off a reed, crossed the Yangzi River, and proceeded to the Shaolin Temple [on Mount Song in Henan Province]."

This painting is signed by Li Yaofu, whose name appears only in Japanese records, and is inscribed by Yishan Yining, the renowned Chinese missionary who went in 1299 to Japan. There, Yishan served as abbot of temples in Kamakura and Kyoto until his death. The inscription reads:

Crossing rivers and deserts he came.
Facing the emperor he confessed, "I don't know";
Unsuccessful, he moved on,
His feet treading the water.

While mainstream painters followed the style of Li Gonglin (ca. 1049–1106)—that of baimiao, or "white drawing," executed with a controlled line of uniform thickness—the Chan painter employed a more flexible brush style that combined fine lines with graduated ink-wash strokes in a free expressive manner. Here, the subtle rendering of the face records the holy man's foreign features and captures the essence of spiritual concentration.
#7385. Bodhidharma Crossing the Yangzi River on a Reed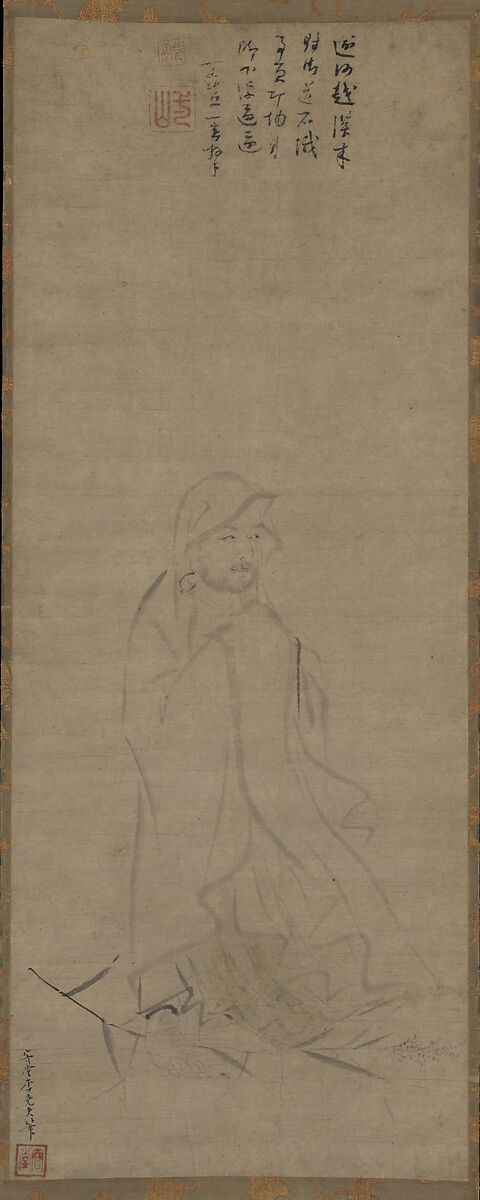 This artwork is meant to be viewed from right to left. Scroll left to view more.