Woods and Valleys of Mount Yu
Ni Zan Chinese

Not on view
In 1366, Ni Zan abandoned his home to escape marauding soldiers. Even after the establishment of the Ming dynasty in 1368, Ni continued the life of a wanderer, visiting old haunts that he had not seen for twenty or thirty years. According to his epitaph writer, Zhou Nanlao (1308–1383), "in his late years, he became quieter and more withdrawn than ever. Having lost or given away everything he ever owned, he did his best to forget his worries. Wearing a yellow [Daoist] cap and country clothes, he roamed the lakes and mountains, leading a recluse's life."

Woods and Valleys of Mount Yu, executed two years before Ni Zan's death, expresses the painter's contentment in the life of a recluse. The poem ends with the lines:

We watch the clouds and daub with our brushes
We drink wine and write poems.
The joyous feelings of this day
Will linger long after we have parted.

The dry but tender brushwork is aloof and restrained. There is a tranquil luminous quality about the painting that makes it one of the most fully realized works of the artist's later years.
#7315. Woods and Valleys of Mount Yu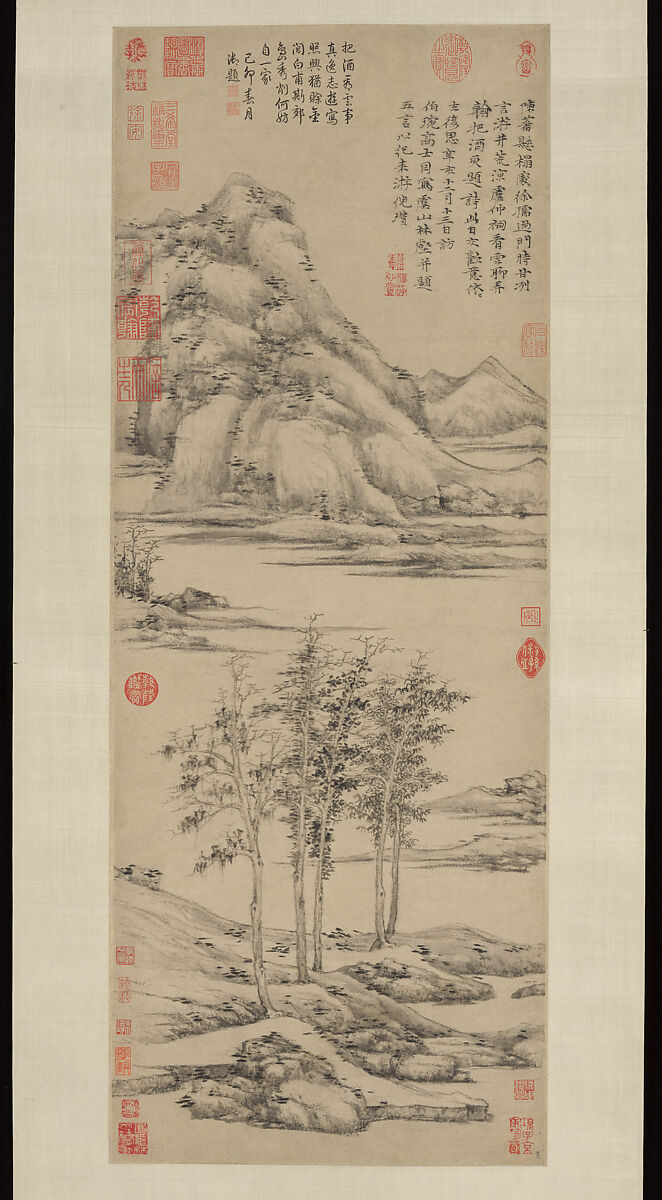 This artwork is meant to be viewed from right to left. Scroll left to view more.