"Arjuna Battles Raja Tamradhvaja", Folio from a Razmnama
Patron 'Abd al-Rahim ibn Muhammad Bairam Khan Khan-i Khanan Indian

Not on view
Akbar was the first of the Mughals to commission Persian translations of Sanskrit works out of a genuine interest in the literature and religion of the Hindu subjects over whom he ruled. Later emperors and other Muslim nobles followed his lead. This folio has come from a copy of the Mahabharata (known in Persian as the Razmnama) made for 'Abd al-Rahim ibn Muhammad Khan-i Khanan, army commander to Akbar and then Jahangir. Long in the service of the Mughals in a military capacity, 'Abd al-Rahim was also placed in charge of translating Babur's memoirs into Persian from Chaghatay Turkish, which reflects his literary interests. Though many others of his status had fine libraries, he was one of the few nobles who had books created for him, and six manuscripts are known to have come from his workshop of twenty artists. Like Akbar, he commissioned copies of the Ramayana and a Ragamala as well as the classic Khamsa of Dihlavi and the Panj Ganj of Jami.

The Mahabharata is the story of the legendary war between the clans of the Kauravas and the Pandyas. The scene depicted here is the Battle of Arjuna and Raja Tamradhvaja. The painting cycle in 'Abd al-Rahim's book is the same as in Akbar's, and the large blocks of text that form part of the picture frame reflect the practice of the imperial atelier at that time.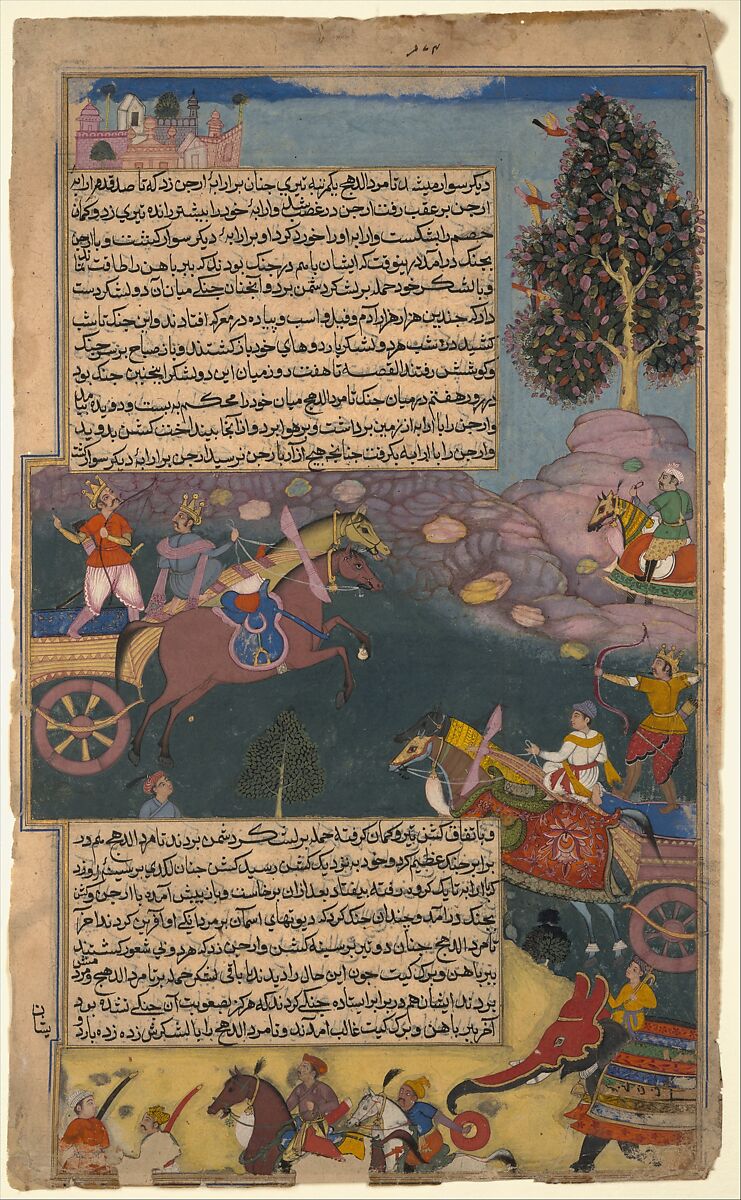 This artwork is meant to be viewed from right to left. Scroll left to view more.