"The Shah's Wise Men Approve of Zal's Marriage", Folio 86v from the Shahnama (Book of Kings) of Shah Tahmasp
Author Abu'l Qasim Firdausi Iranian
Painting attributed to 'Abd al-'Aziz

Not on view
Zal was the son of Sam of the house of Nariman, the ruling family of Sistan who had been vassals and faithful supporters of the Iranian crown for a long time. During his travels to the east, Zal fell in love with the beautiful Rudaba, daughter of the ruler of the rival kingdom of Kabul. But when he expressed his desire to marry her, Shah Manuchihr became very concerned about the future of the Iranian kingdom and reacted negatively to his plans. Upon Sam's insistence, however, the shah asked the advice of his sages and astrologers. Luckily the stars and the wise men gave a positive verdict: not only would the marriage be a felicitous event, but the union of the Iranian prince and the Indian princess would bear the most important Iranian hero, Rustam.
This is a lavish enthronement scene, a rather common iconographic subject in the Persian tradition. The artists used this occasion to construct an elaborate interior space, whose tiled surfaces and painted walls probably closely resemble contemporary royal interiors. They also included references to two other important elements of Iranian royal architecture: fountains and gardens.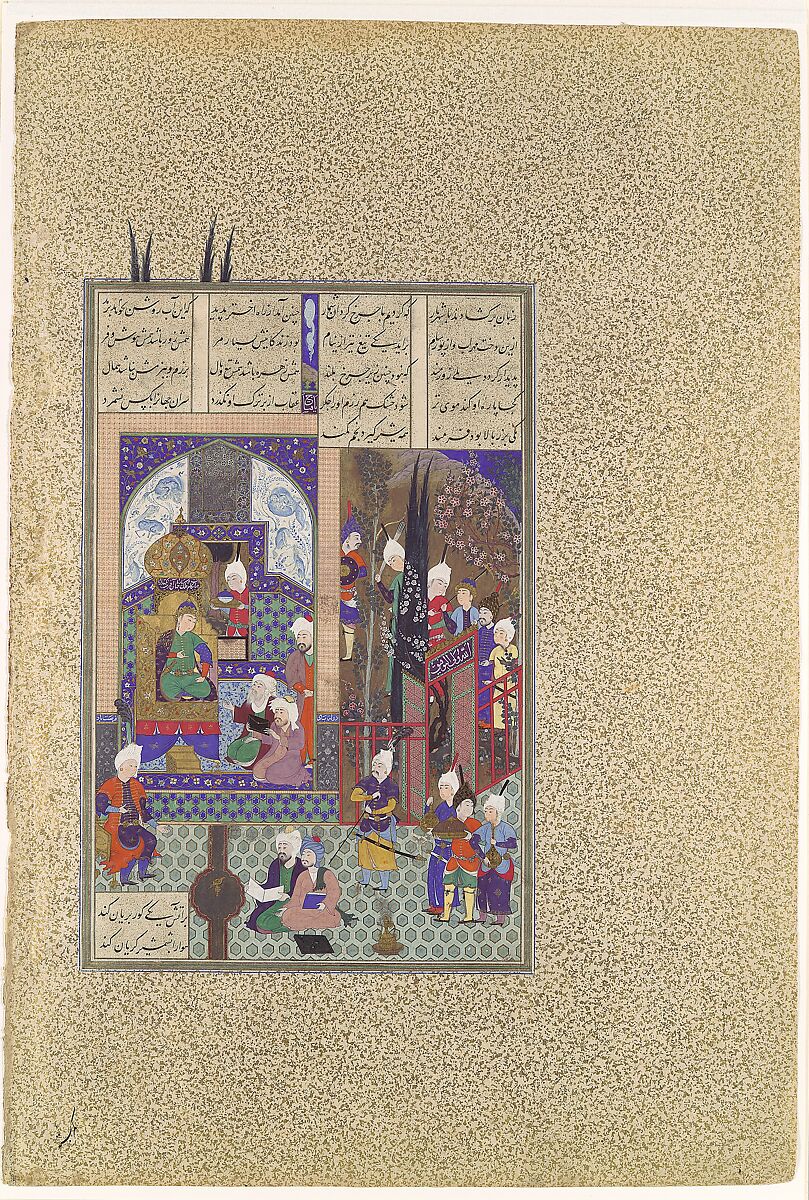 This artwork is meant to be viewed from right to left. Scroll left to view more.