Hawks with Pine Trees and Camellias; Small Birds with Willows and Camellias
Attributed to Mitani Tōshuku Japanese

Not on view
The simple contrast of two impressive trees—a thin, supple willow and a mighty pine—dominates this composition. The artist has skillfully utilized the two trees to evoke their symbolic associations: purity (the pine) and vitality (the willow). In this regal environment, the predatory hawks, ironically juxtaposed with the blossoms, suggest the indifference of the natural order. The hawk, a symbol of kings, was a favorite theme of Japanese warlords during the era of civil wars.

Recent scholarship has helped attribute these screens to Mitani Tōshuku, a member of the Unkoku school. Founded by Unkoku Tōgan (1547–1618), a master of the Momoyama period, the Unkoku school enjoyed longlasting patronage in southern Japan. Although he did not use the Unkoku name, Mitani Tōshuku was a prominent member of the school. The dense foliage of the pine tree, the strong chiaroscuro defining its branches, the dark shadings on the hawks, and the protective pose of the bird toward its chicks closely resemble a painting that bears Tōshuku's seals.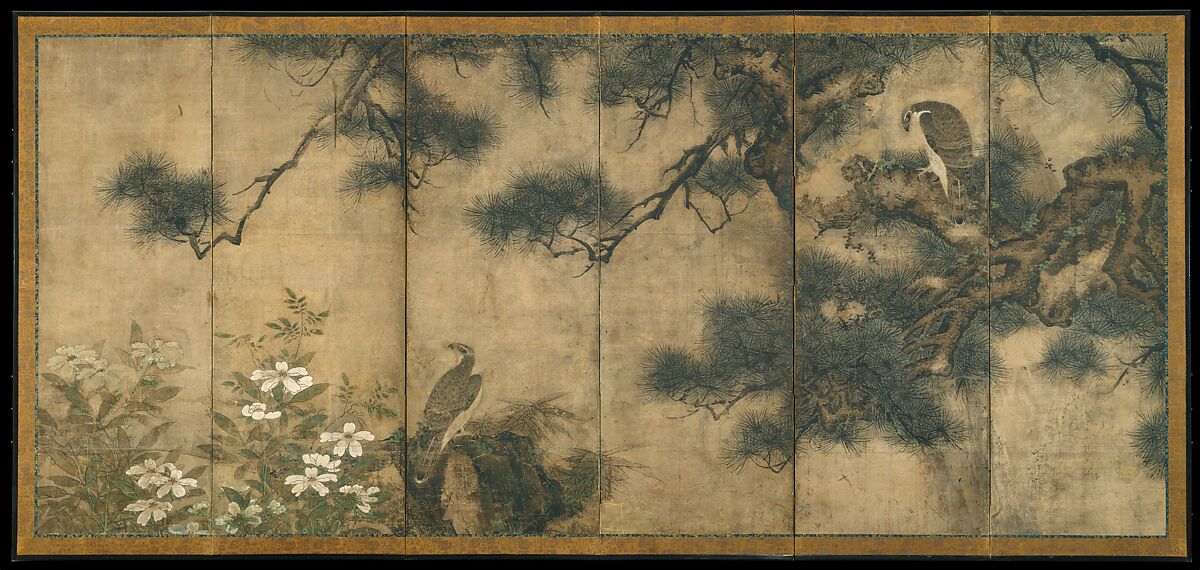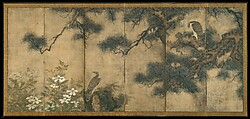 This artwork is meant to be viewed from right to left. Scroll left to view more.