Lobed Plaque
Not on view
The silver jeweled ornaments of the Turkoman tribes of Central Asia are characterized by their bold forms, striking profiles, and prominent semiprecious stones, most often carnelians or turquoise. By the nineteenth century, the once seminomadic Turkoman people had settled in various parts of Iran, Afghanistan, and Chinese and former Soviet Central Asia, but metalworkers' guilds continued to hold an honored position in each center. Turkoman silversmiths produced a variety of objects in a style and with motifs that reflected both Islamic and shamanist cultural influences: jewelry for women and children; ornaments and fittings for knives, helmets, and belts; and harnesses and other embellishments for horses and other animals.

This pendant of somewhat unusual form originally hung from a chain threaded through metal rings attached to the loops on the rectangular plate at the top. The combination of filigree and a thicker silver rim is often seen in Turkoman silver jewelry. The use of blue stones as protection from the "evil eye" has a long history in Islamic culture, particularly in the Persianate world.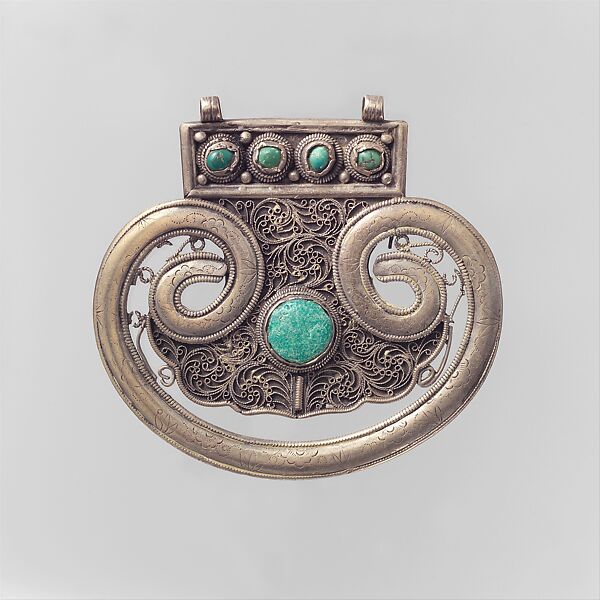 This artwork is meant to be viewed from right to left. Scroll left to view more.