Santa Francesca Romana Clothed by the Virgin
Attributed to Antonio del Massaro da Viterbo Italian

Not on view
This panel painting represents a narrative from the Legend of Santa Francesca Romana. Together with another panel in the Robert Lehman Collection and panels in the Walters Art Museum, Baltimore, and the Národní Galerie, Prague, it formed part of a more extensive series on the life of Santa Francesca Romana, presumed to have been painted for the Church of Santa Maria Nuova in Rome. The complex of narrative scenes from which these panels come in turn formed the basis, in 1468, for a fresco cycle depicting thirty seven episodes from her life painted by Antoniazzo Romano or his workshop in the Oblate convent of Tor de' Specchi. The frescoes are thought to have been commissioned following the death of Santa Francesca Romana, when a case for her canonization was presented.
Santa Francesca Romana, founder of the Olivetan Oblates, lived from 1384 to 1440. Her cult as a beata was authorized in 1460, and she was finally canonized in 1608. In the Lehman panel, she is presented in a white cloak kneeling before the Virgin and Child, both of whom hold inscribed scrolls. The Virgin wears a golden cloak, which Saint Paul at the left wraps around Francesca Romana. Paul also holds a scroll. The scene takes place on a platform of cloud, and the Virgin and Child are surrounded by scarlet seraphim. At the right, Saint Mary Magdalene, cloaked in red, and Saint Benedict, in the foreground, hold a protective cloak around twenty members of the Olivetan order. Below the Gothic windows at left, an angel is engaged in carding golden threads with a warp and loom. Playing around the warp are two dogs and two cats. The narrative has been interpreted as signifying that the Oblate congregation was woven together by heavenly visions and was assailed by evil spirits in the form of cats and dogs, which were unable to break its threads.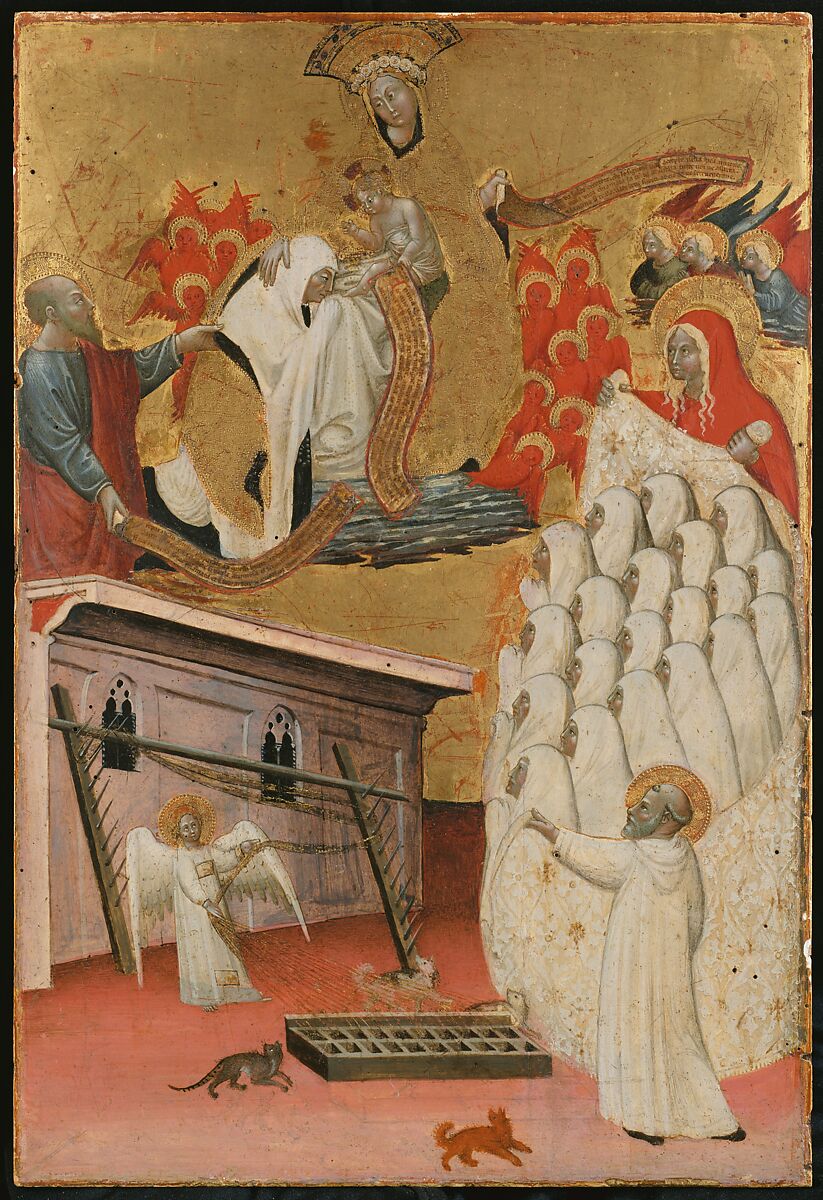 This artwork is meant to be viewed from right to left. Scroll left to view more.