Bowl with the Arms of Pope Julius II and the Manzoli of Bologna surrounded by putti, cornucopiae, satyrs, dolphins, birds, etc.
workshop of Giovanni Maria Vasaro

On view at The Met Fifth Avenue in Gallery 950
This splendid bowl is widely regarded as one of the most beautiful pieces of majolica ever made. It is profusely decorated with the antique-inspired grotteschi that became popular in the early sixteenth century. The prominent oak tree beneath the papal keys and tiara, the festoons of acorns, and the shields inscribed "IV II" (for Julius II) associate this object with Pope Julius II della Rovere (r. 1503–12), whose heraldic device was the oak tree. At the lower edge the coat of arms of Melchiorre di Giorgio Manzoli, a Bolognese envoy and loyal supporter of the pope who was probably the bowl's recipient. The dense imagery, which includes emblems of both secular and spiritual authority, may commemorate the triumphal entry of the pope into Bologna in 1506 and the reestablishment of papal rule in the city.

The back of the bowl is fully glazed and decorated with a stylized acanthus-leaf pattern. An unusually detailed inscription in the center, "1508 adi 12 de seteb/facta fu i Castel durat/Zoua maria vro," establishes the object's precise date. This inscription is the only known reference to the otherwise undocumented Giovanni Maria Vasaro, who may have been the painter or, more likely, the owner of the workshop that produced the bowl.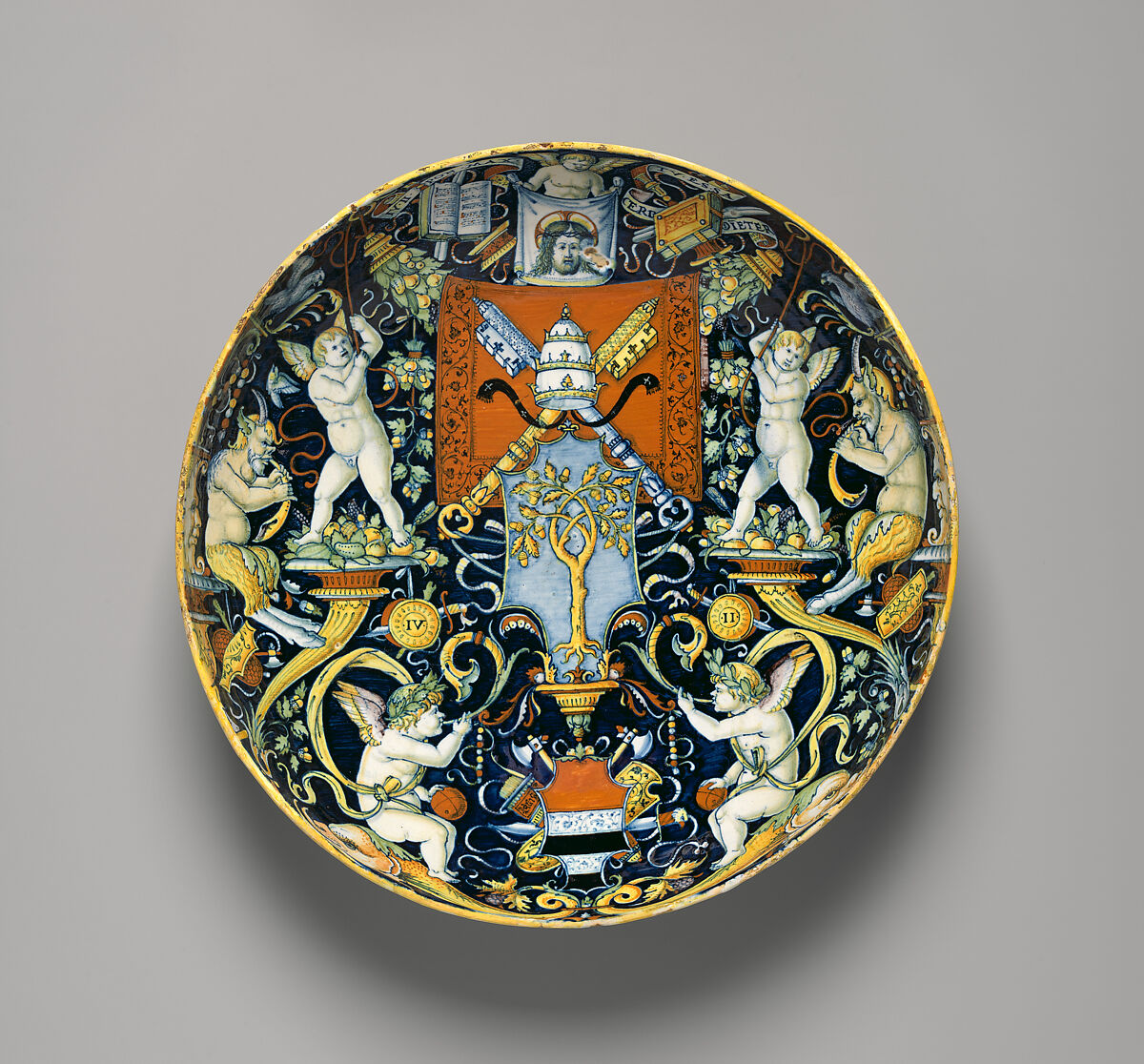 This artwork is meant to be viewed from right to left. Scroll left to view more.