Reflection in the Mirror
Henri Matisse French

Not on view
This charcoal drawing may be a study for a painting of the same year, "Standing Odalisque Reflected in a Mirror" (Cone Collection, Baltimore Museum of Art). Matisse was living in Nice at the time, a period when he often posed his models in colorful, intimate interiors overlooking the Mediterranean. The Lehman drawing is very close to its related oil, in both the casual stance of the female and the configuration of the room's appointments.

Matisse often drew in charcoal preliminary to his Nice interiors, studying his models and the play of light on their corpulent anatomy. Here the full-length mirror enables a reflected image of the female, where the white of the paper casts the figure's breasts, abdomen and face in raking illumination. Matisse wrote of his large Nice drawings as "generating light…as containing not only quality and sensibility, but also light and difference in values corresponding obviously to color…" The fine Lehman study is ultimately an exercise in value differentiation, readying the artist for its painted equivalent.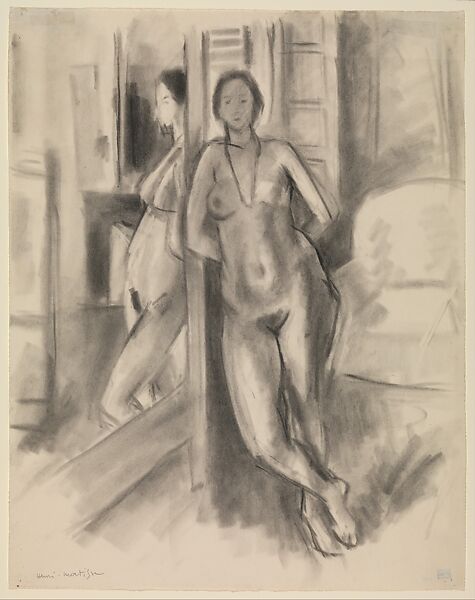 This artwork is meant to be viewed from right to left. Scroll left to view more.