La table servie
Jacques Villon French

Not on view
Brother to the influential Dada artist Marcel Duchamp and the Cubist sculptor Raymond Duchamp-Villon, Gaston Duchamp [later Jacques Villon] was an accomplished illustrator and printmaker who took up with Cubist painters following an exhibition of their work at the Salon d'Automne in 1911. Cubists emphasized the two-dimensionality of imagery, fracturing objects into geometric forms and then realigning them in shallow, relief-like spaces.

"La table servie" is one of a fascinating series of paintings and works on paper preoccupied with the dining table set for lunch. Villon's subject evolved from a distant view of a table with objects resting on it to multiple views of the objects described in true Cubist fashion. On the unfolded tablecloth a meal is arranged, with an assortment of overlapping objects that undergo a thorough Cubist analysis: a carafe, a Chianti bottle, a bowl, a cup and saucer, a pitcher, a plate, and a bouquet of flowers. As distinct from other working sketches of the still life, the Lehman drawing is primarily a linear exercise, a study of line as it passes rhythmically through objects and space. The squared grid was used to transfer the complex distribution of objects to one of the related paintings in the series.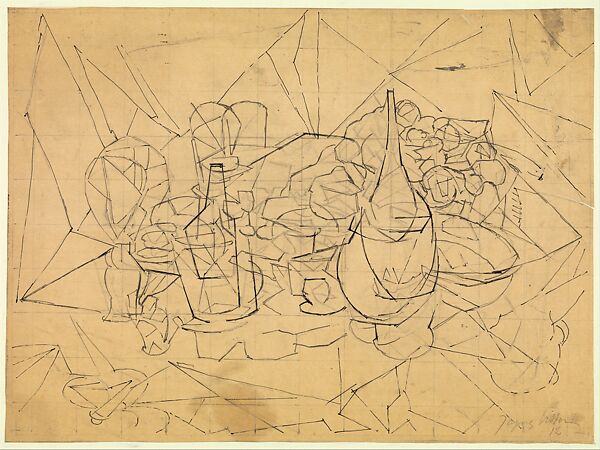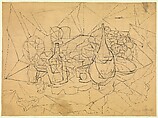 This artwork is meant to be viewed from right to left. Scroll left to view more.