The Nativity
Workshop of Rogier van der Weyden Netherlandish

Not on view
The central panel of this altarpiece represents the Nativity, flanked on the left by the annunciation of the Tiburtine Sibyl to the emperor Augustus, and on the right by the Annunciation to the Magi with a further scene in the background of the Magi bathing at Mount Victorial. The wings depict the Visitation and the Adoration of the Magi, looking on from above surrounded by angels, is God the Father. The announcement of Christ's coming to Augustus and to the Three Kings were events thought to have occurred at the moment of Christ's birth. This dual annunciation to the rulers of the West and East demonstrates the universal significance of the Incarnation and the Supremacy of Christ over all earthly realms. The center panel generally follows the composition of a triptych now in Berlin devoted to the same subjects and painted about 1445 by Rogier van der Weyden for Pierre Bladelin, treasurer to the Burgundian dukes. Two of the small outer wings were removed and are now in private collection.




Watch a video about this altarpiece.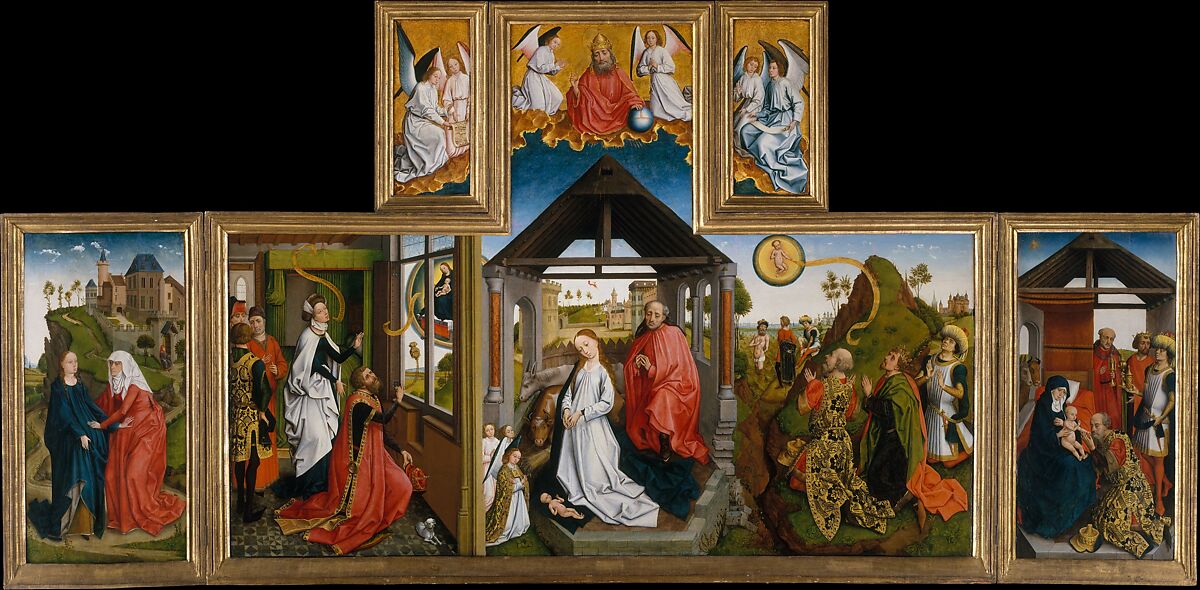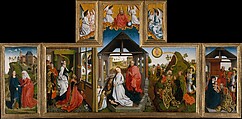 This artwork is meant to be viewed from right to left. Scroll left to view more.