Annunciation Triptych (Merode Altarpiece)
Workshop of Robert Campin Netherlandish

On view at The Met Cloisters in Gallery 19
Having just entered the room, the angel Gabriel is about to tell the Virgin Mary that she will be the mother of Jesus. The golden rays pouring in through the left oculus carry a miniature figure with a cross. On the right wing, Joseph, who is betrothed to the Virgin, works in his carpenter's shop, drilling holes in a board. The mousetraps on the bench and in the shop window opening onto the street are thought to allude to references in the writings of Saint Augustine identifying the cross as the devil's mousetrap. On the left wing, the kneeling donor appears to witness the central scene through the open door. His wife kneels behind him, and a town messenger stands at the garden gate. The owners would have purchased the triptych to use in private prayer. An image of Christ's conception in an interior not unlike the one in which they lived also may have reinforced their hope for their own children.
One of the most celebrated early Netherlandish paintings—particularly for its detailed observation, rich imagery, and superb condition—this triptych belongs to a group of paintings associated with the Tournai workshop of Robert Campin (ca. 1375–1444), sometimes called the Master of Flémalle. Documents indicate that he hired at least two assistants, the young Rogier van der Weyden (ca. 1400–1464) and Jacques Daret (ca. 1404–1468). Stylistic and technical evidence suggests that the altarpiece was executed in phases. The Annunciation, which follows a slightly earlier workshop composition, probably was not commissioned. Shortly thereafter, the male donor ordered the wings, which appear to have been painted by two artists. At a later point, in the 1430s, presumably following the donor's marriage, the portraits of his wife and of the messenger were added. The windows of the central panel, originally covered with gold leaf, were painted with a blue sky, and the armorial shields were added afterward.
#73. Annunciation Triptych (Merode Altarpiece)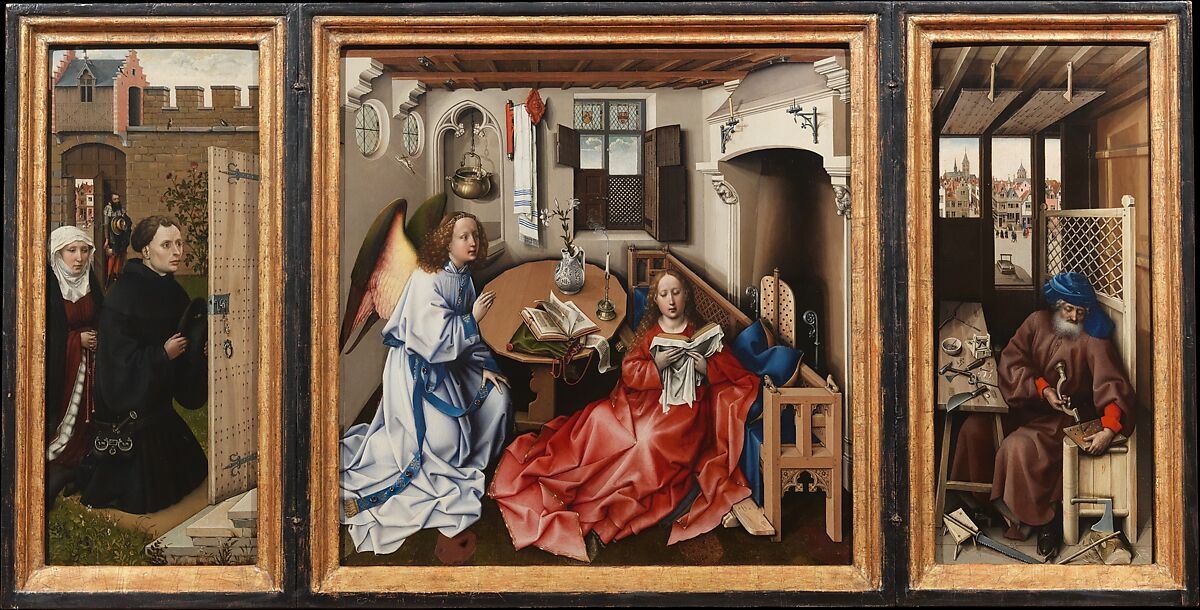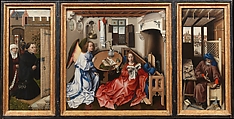 This artwork is meant to be viewed from right to left. Scroll left to view more.