Vase
M. Louise McLaughlin American
Manufacturer Losanti Pottery

On view at The Met Fifth Avenue in Gallery 706
M. Louise McLaughlin was a true pioneer in the development of artistic ceramics of the late nineteenth and early twentieth centuries. In the 1870s she was one of the first in the United States to learn and disseminate that challenging medium of barbotine, a painterly mode of decorating earthenware with slip under the glaze. Similarly, in 1898, she was the first to master the difficult medium of making and decorating porcelain in a small studio, outside of a larger factory setting, when she first developed her Losanti porcelain production in a shed in her backyard in Cincinnati. Much of the decoration was painstakingly carved into the leather-hard surface before glazing and firing.



For this vase, the scrolls are carved and interlaced so as to resemble stylize fern fronds and vine tendrils that emerge from the bottom of the vessel in a mannered fashion suggesting the Art Nouveau style, then in vogue in Europe. McLaughlin was fully aware of contemporary French decorative arts through the extensive coverage it received in periodicals, both American and foreign. While the style was only tentatively embraced by American designers and craftsmen, this Losanti vase by McLaughlin suggests the ceramist's intrepid spirit, and fluency with work being produced abroad.


The decoration on the vase was exceedingly skillfully executed. Not discernable from the images, the interstices of the scrolls are intentionally carved so deeply that they essentially pierce the walls of the vessel. Those areas were then filled in with the transparent glaze that was applied to the vase. McLaughlin discussed the vase in the record book she maintained of her Losanti Ware, noting that on this particular vase, there were areas where the glaze had not completely filled in the areas, and that she had to mend and re-fire the vase.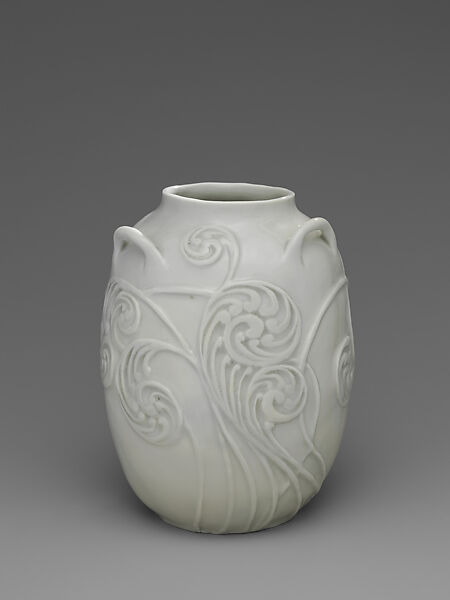 This artwork is meant to be viewed from right to left. Scroll left to view more.