Birds in a lotus pond
Bada Shanren (Zhu Da) Chinese

Not on view
Focusing on a narrow band of the natural world, Birds in a Lotus Pond, datable stylistically to about 1690, shows the artist boldly experimenting with the highly absorbent medium of satin to create a daring composition of saturated ink lines and dots starkly set against a blank background. The scroll opens with the daringly abstract form of a torn lotus leaf that is precariously suspended from its bent stalk, which extends leftward above a cluster of half-hidden blossoms. The black leaf stands in contrast to a stark white boulder, defined only by its ink outline. Two fluffy chicks perch atop this boulder, apparently oblivious to their surroundings. On the shore beyond crouch two mynahs, their glances directed upward toward a final lotus leaf that looms above them. Balanced on the back of the second mynah is another tiny chick, its beak open in song or hunger.

The birds appear to personify the interaction of dark and light that animates the entire composition; the human-like expressions with which Bada has imbued them adds an unsettling quality to the already enigmatic composition.
#7366. Birds in a Lotus Pond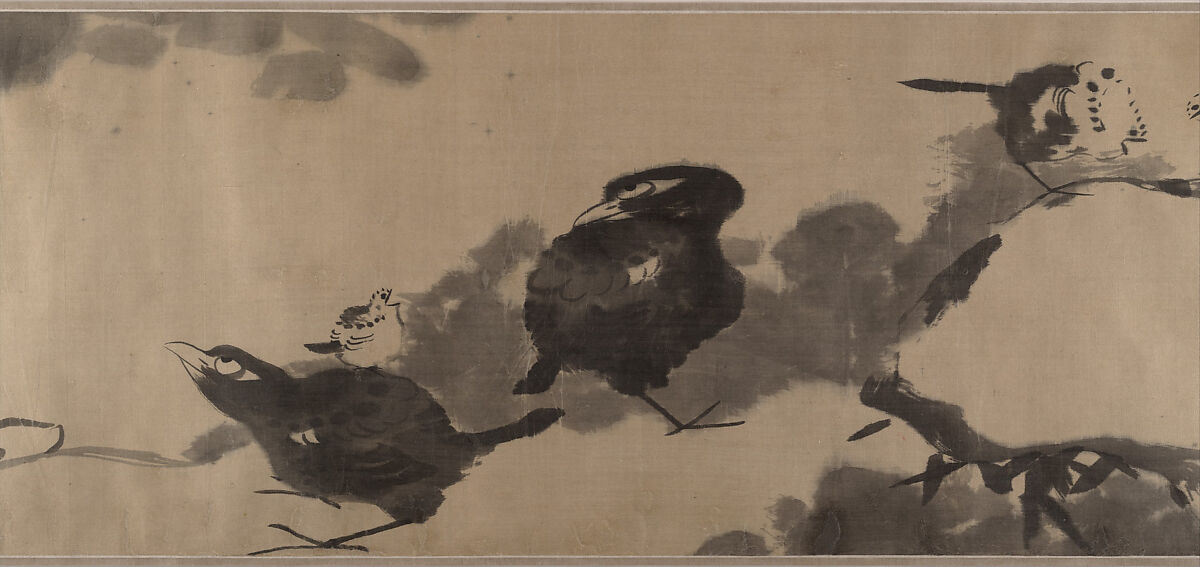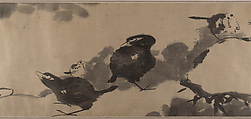 This artwork is meant to be viewed from right to left. Scroll left to view more.