Fish and rocks
Bada Shanren (Zhu Da) Chinese

Not on view
To disguise his identity, Zhu Da, a scion of the Ming imperial family, took refuge in a Buddhist temple after the Manchu conquest of 1644. About 1680 he renounced his status as a monk and began producing paintings and calligraphy in order to support himself. In 1684 he took the biehao (artistic name) Bada Shanren (Mountain Man of the Eight Greats). A staunch Ming loyalist throughout his life, Bada used painting as a means of protest. His is the poignant voice of the yimin, the leftover subjects of the fallen dynasty.

This painting is typical of the bold enigmatic images that Zhu Da produced during the last twenty years of his life. The seemingly innocuous subject, a garden pond framed by two ornamental rocks, becomes, in Zhu Da's rendition, profoundly unsettling. Were it not for seven tiny fish that swim beneath the two rock forms, transforming the blank paper into a body of water, the image would be unrecognizable. Six of the fish are shown in profile, but the seventh appears as if seen from above, leaving the viewer disoriented; the absence of a horizon line adds to the unsettling effect. Treating the image as a calligraphic design, Bada juxtaposes large and small, solid and void, and heavy and light, creating a tension between flat shapes and three-dimensional volumes that heightens the disturbing quality.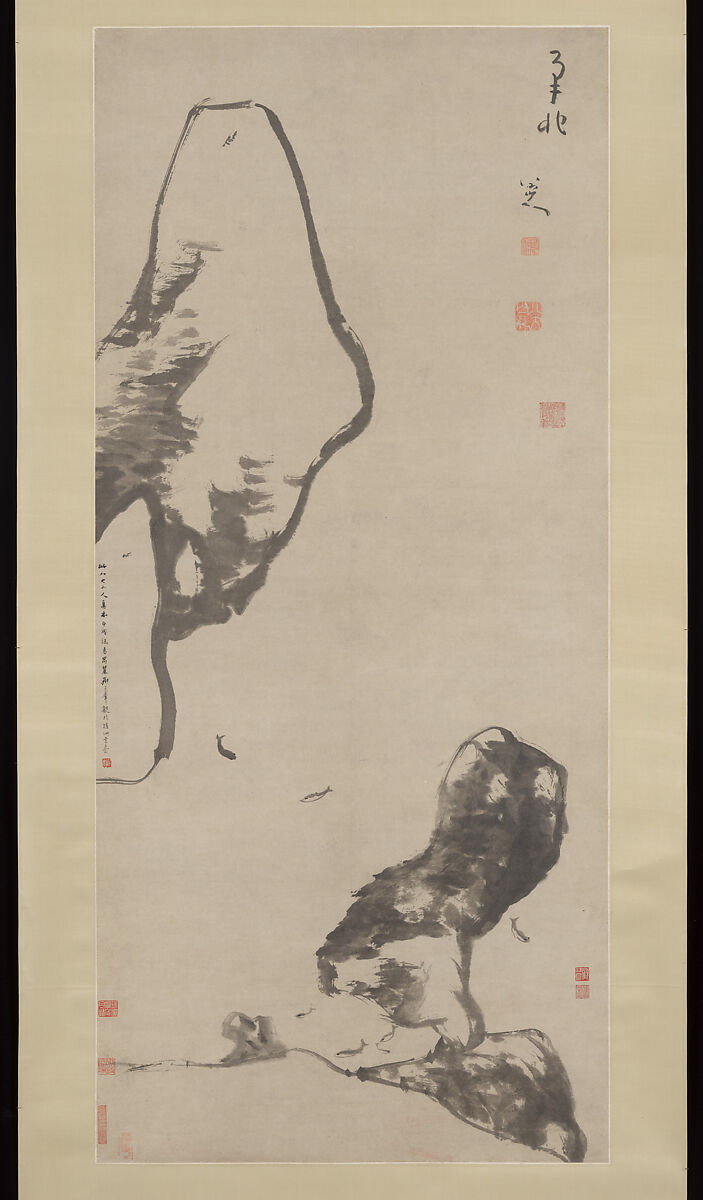 This artwork is meant to be viewed from right to left. Scroll left to view more.