Returned to lender The Met accepts temporary loans of art both for short-term exhibitions and for long-term display in its galleries.
Landscape
Bada Shanren (Zhu Da) Chinese

Not on view
Bada Shanren rarely painted landscapes until he was nearly seventy years old, but as this album attests, he became a great master in this genre during the last decade of his life. These remarkably varied compositions reveal extraordinary sensitivity to the graphic function of negative space. Rocks are often modeled in faceted planes, while the expressive rendering of intersecting trees reveal the artist's calligraphic sophistication.

Bada's primary inspiration for his landscapes was the late Ming master Dong Qichang (1555–1636). But this album also attests to his profound understanding of earlier masters and his bold departures from them. In his inscription on the last leaf, he not only sums up his artistic heritage but also echoes a Yuan master's anguish over the demise of his native dynasty:

Rocks textured in Guo's [Guo Xi, ca. 1000–ca. 1090] method are topped with small clouds; Old Dong's [Dong Yuan, active 930s–60s] hemp-fiber-like brushlines often model trees as well. I can imagine how his contemporaries interpreted his paintings: Yifeng [Huang Gongwang, 1269–1354] was still depicting the landscape of the Song empire.

cat. no. 62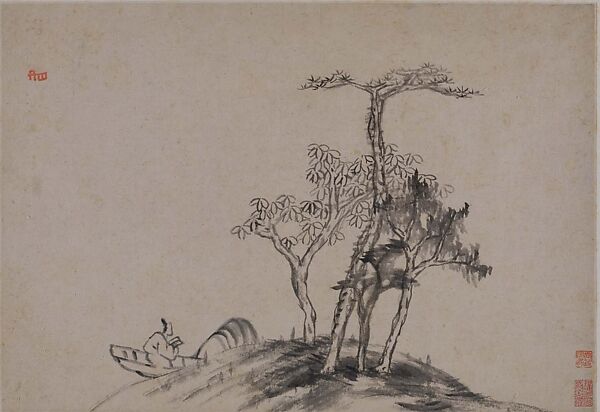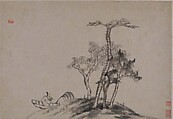 This artwork is meant to be viewed from right to left. Scroll left to view more.