A Drawing in Five Parts
Richard Serra American

Not on view
Renowned as a maker of large-scale, often site-specific sculptures, Richard Serra has throughout his career also produced drawings that are at once independent from and deeply tied to his three-dimensional work. Since the early 1970s Serra has used black oil stick-compressed tubes of paint, pigment, and wax to make drawings that, like his sculptures, strive to explore the limits of the medium and engage the viewer's phenomenological experience of the work.

The curves of A Drawing in Five Parts were inspired in part by the subtly shifting slopes of the sand dunes on the San Francisco beach where Serra grew up and in part by the arching lines raked into the sand in the Zen gardens of Kyoto. To create the drawings Serra first melted a number of paintsticks. He then evenly spread the now fluid medium onto a worktable and covered it with metal mesh. Next he placed sheets of paper facedown on top and pressed a stylus onto the verso of the paper, forcing the liquefied medium through the screen and onto the surface. Like Serra's sculpture, the five sequential drawings with their nestled arcs suggest motion and imply the passage of time.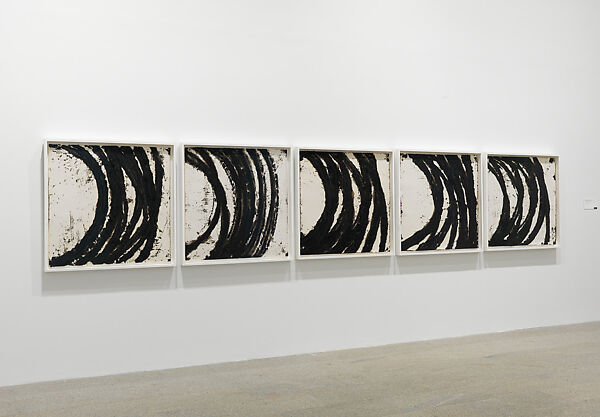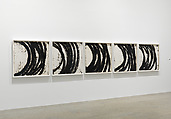 This artwork is meant to be viewed from right to left. Scroll left to view more.