Askomandoura
Not on view
The askomandoura (or askavlos) is a bagpipe found in Crete, Greece. Its name derives from the words 'askos' (bag) and 'avlos' or 'mandoura' (reed pipe). This instrument is typical of a Cretan bagpipe. Made out of a goatskin, the bag is tied at the rear end and at the neck. From one foreleg emerges an insufflation pipe, and from the other the melodic pipes. The double melodic pipes, with five fingerholes each, are fitted in a straight hand-carved wooden sleeve, which opens up into a straight bell at the bottom end. The reed melodic pipes are secured in the sleeve with black wax. The sleeve itself is highly decorated with geometrical patterns (serrated and diagonal lines) as well as nature-based patterns such as leaves. Decorative sleeve carvings are a common feature on Cretan bagpipes.

This instrument was made specifically for the Metropolitan Museum. Mr Hazzidachis, who was based in the capital of Crete, Heraklion (then still known by its Ottoman name, Candia), commissioned three instruments for the museum: a lyra (89.4.984), an aulos, and a bagpipe. The instruments were made in the months of August and September of 1894, and sent to New York in September 1894. Hazzidachis estimated that the cost of the three instruments would 'not surpass … 5 dollars with the expenses of the postage' (Hazzidachis, 2 August 1894, Metropolitan Museum Archives).

The askomamdoura is played with the daouli (a large drum), the lyra (an upright fiddle) and the laouto, or any combination of the above. In Crete, as in many of the Greek islands where a very similar version of the bagpipe is played (see 89.4.1293), the askomandoura is used for celebrations such as weddings, village festivities, and general entertainment. Repertoire includes dance music and songs and is generally upbeat, provoking enthusiasm and an energetic atmosphere.

(Cassandre Balosso-Bardin, 2023)

Technical description

Double wood chanters with cylindrical bores, 165 mm set in wooden sleeve with beeswax;
Fingerholes: R5/0, L5/0;
Insufflation pipe (80 mm) with leather flap valve tied on inside bag;
Kidskin bag with black hair turned inwards;
Chanter stock integral with chanter, with notched ring for tying in;
Carved decoration on cane chanter sleeve.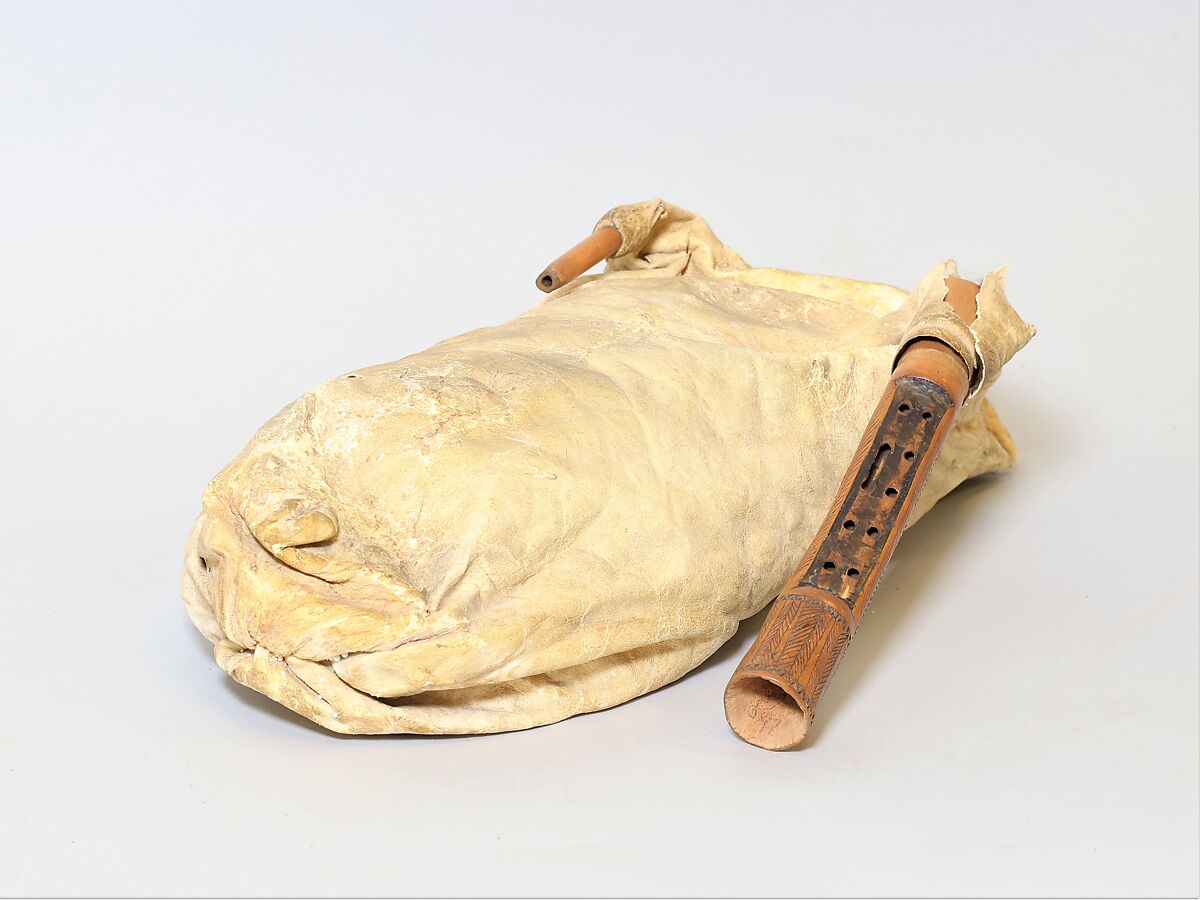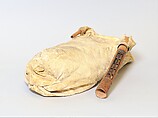 This artwork is meant to be viewed from right to left. Scroll left to view more.