Division Viol
Attributed to Barak Norman British

Not on view
Viols, the most esteemed bowed instruments of the late Renaissance, were only gradually displaced by the violin family. Viols differ from violins chiefly in shape, in number of strings and tuning, and in having fretted necks. All viols are played in an upright position between the knees or on the legs ("gamba" means "leg"), and teh bow is held palm upward. The sound is less brilliant and quieter than that of the violin family of instruments. Chamber music for a consort of four to six viols was composed during the Renaissance and Baroque eras, and solo works for the bass viol were being played until nearly the end of the eighteenth century.

This instrument is attributed to the English master luthier Barak Norman. Norman's workshop, "The Bass Viol," was one of many workshops of its kind located in the vicinity of Saint Paul's Cathedral, the epicenter of instrument making in seventeenth-century London (and down the street from "The Golden Viol," the shop of Edward Lewis and John Hare). It is very likely that Norman constructed this instrument the year before he began monogramming his work. It is simply decorated, unlike many of his other instruments, or those of his colleague (and likely teacher) Richard Meares, which often feature intricate latticework on the ribs and around the body.

As viols began to fall out of fashion in the eighteenth and nineteenth centuries, this Norman, like so many other viols, was converted to a cello, then later reconverted to a viol. Restorations were carried out in 1899 by the noted English maker George Saint George, who fitted a new neck, fingerboard, and tailpiece to the instrument, transferring the original decorative inlaid facing to the new parts. The instrument received further repairs in 1956 by Dietrich M. Kessler.

Description: Three-section angled back, outer sections of faint horizontal broad curl, central section of more pronounced curl and inlaid with purfled floral motifs; ribs of broad curl; plain pegbox with original pegs terminating in open scroll; three-piece table of medium grain inlaid under fingerboard with purfled floral motif hatched with hot needle; C holes; double purfling front and back; original marquetry fingerboard and tailpiece (transferred to new backing) with scrolling foliage inhabited by birds; original hook bar; original varnish largely intact.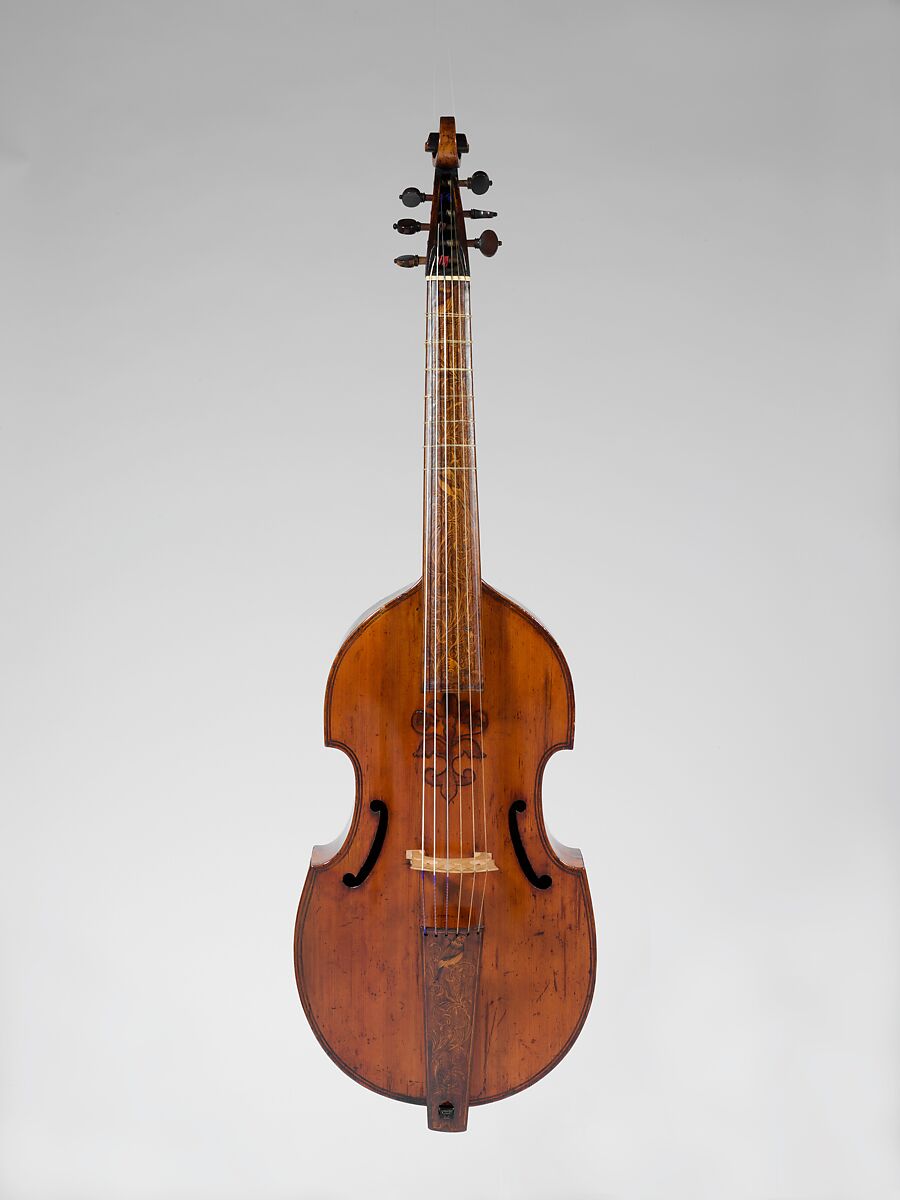 This artwork is meant to be viewed from right to left. Scroll left to view more.