Division Viol
On view at The Met Fifth Avenue in Gallery 681
Viols, the most esteemed bowed instruments of the late Renaissance, were only gradually displaced by the violin family. Viols differ from violins chiefly in shape, in number of strings and tuning, and in having fretted necks. All viols are played in an upright position between the knees or on the legs ("gamba" means "leg"), and the bow is held palm upward. The sound is less brilliant and quieter than that of the violin family of instruments. Chamber music for a consort of four to six viols was composed during the Renaissance and Baroque eras, and solo works for the bass viol were being played until nearly the end of the eighteenth century. This instrument is of the type known as a division viol, measuring between two and three inches shorter than a consort viol.

In England after 1600, small bass viols such as these began to displace larger consort instruments. Viols of this size remained dominant until the viola da gamba began to go out of fashion in the late eighteenth century (at which point many small bass viols were converted into cellos). This example is part of a small group that escaped modernization. Remarkably, it retains its original neck, fingerboard, tailpiece, and bridge. Because its label is lost and no comparable seventeenth-century viol has yet come to light, dating this instrument and attributing it to a particular maker or workshop is difficult. The date 1640–65 is based on construction details and decorative style. The viol's top is assembled from five bent staves, instead of a carved single board, and the ornamental carnation inscribed with a hot needle just below the fingerboard imitates embroidery patterns fashionable in England about 1600 and after. Furthermore, the portrait of a young man that decorates the viol's finial, or head, is intriguingly similar to one in The Yarmouth Collection, a still life commissioned in 1665 (Castle Museum, Norwich, England).

Description: Spruce top of five bent staves having C-holes without notches and with the points facing outwards, double purling along edge and ornamental carnation inscribed with hot needle and filled with cross hatching just below fingerboard; two-piece maple back cut on 45º angle, elaborate purfling (three strips black/white/black) and decoration consisting of geometric "knots"; yellowish varnish; one-piece maple neck with pegbox carved with man's head, the lower end with projection that fixes into a corresponding large groove in the upper block and is stabilized by three iron nails (according to radiography); maple fingerboard with incising and geometric patterns and purling; maple tailpiece decorated with geometric purfling as with fingerboard hooks to tail pillar of brown tropical hardwood; six strings.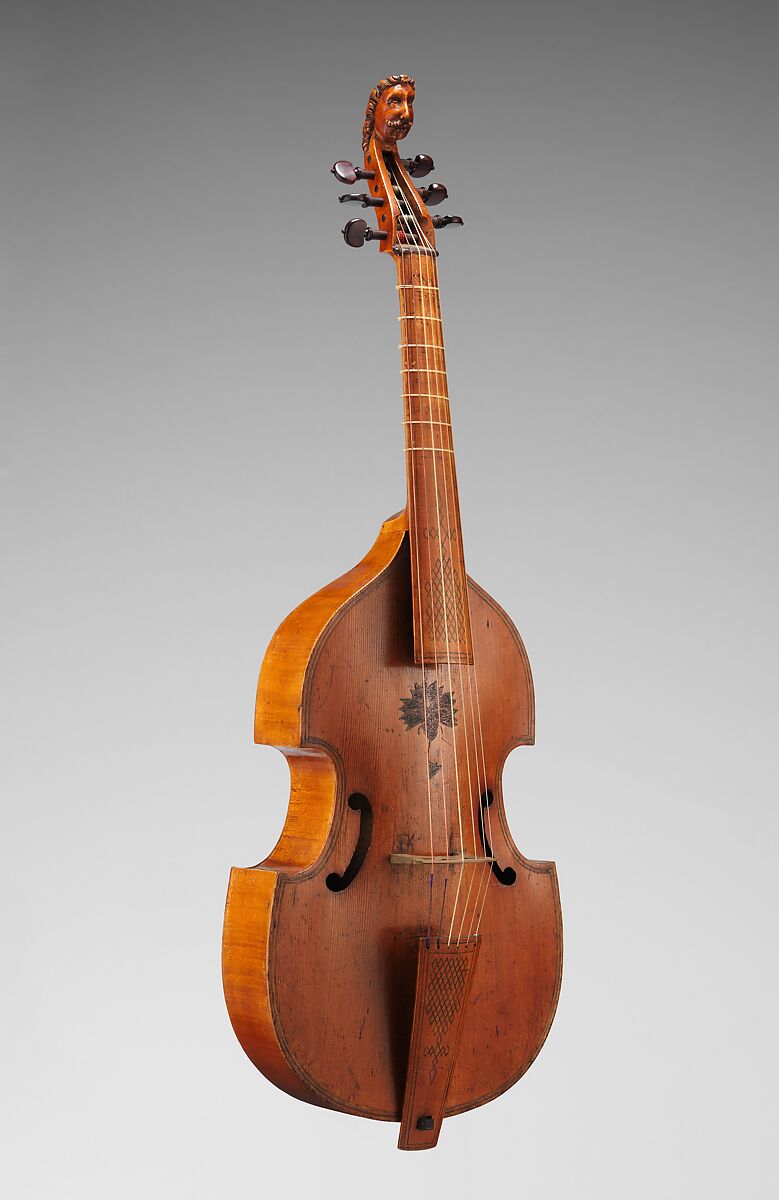 This artwork is meant to be viewed from right to left. Scroll left to view more.