Banjo
Benjamin Bradbury American

Not on view
Brooklyn banjo maker Benjamin Bradbury was awarded a patent for this 10-string banjo in 1882. In his patent application, Bradbury claimed that the major improvement to be a shortened neck and scale length, which provides "a softness resembling and approximating that of a violin," and "enables the instrument to be played by the relatively small hands of women and children."

The banjo has several uncharacteristic features for the period. The metal rim, over which the skin head is stretched, is of unusually small diameter and is mounted within a wood resonator with a marquetry-decorated outer rim and curved back. The slotted peghead, with geared machine tuners on either side, is more commonly found on guitars than banjos. The ten strings are organized in five courses of two strings each. The most unusual feature is that one of the pair of fifth drone or thumb strings enters a "tunnel" under the fingerboard at the fifth fret position. The string emerges at on the peghead side of the nut at the end of the fingerboard where it can be adjusted by a machine tuner, thereby eliminating the need for a tuning peg positioned at the fifth fret for tightening a short drone string.

Bradbury produced a five-string version of this design also with a full-length fifth drone string that enters a tunnel at the fifth fret position and travels under the fingerboard and attaches to one of the machine tuners. In 1888, Brooklyn banjoist and composer Alfred D. Cammeyer arrived in London and performed with either an actual five-string Bradbury banjo or a copy. He became a very successful concert performer in England and popularlzed the Bradbury banjo design, which became known as a zither-banjo. (Peter Szego, 2023)


Technical description: 10 strings including tunnel drone, metal inner rim with screwed-on hoop (19.6 cm OD) enclosed within separate wood resonator with closed convex back and double-wall outer rim, the exterior wall and back ornamented with colored floral and foliate wood inlay, the outer wall pierced by 4 holes with raised wood bushings, mahogany neck with 24 raised inlaid frets on rosewood fingerboard, mother-of-pearl position marks, geared tuners with ivory or celluloid knobs; model patented August 15, 1882, no. 262564.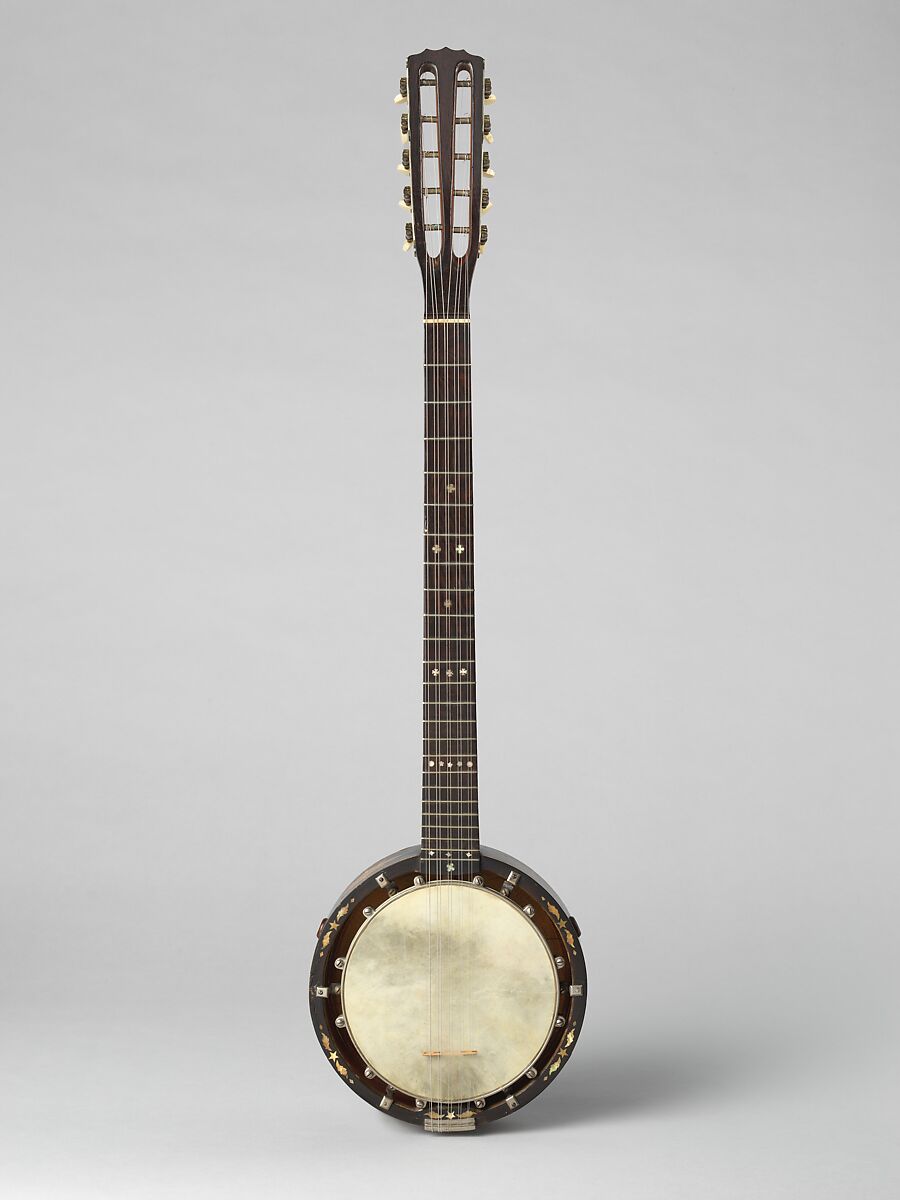 This artwork is meant to be viewed from right to left. Scroll left to view more.