Statuette of Lady Dedetamun
Middle Kingdom
On view at The Met Fifth Avenue in Gallery 110
In the area known as East of Pabasa, a large deposit of coffins and objects was found in 1919 by the Metropolitan's Egyptian Expedition, uncovered in a fill below the causeway of Thutmose III in the central part of the Asasif Valley. More than fifty coffins were discovered, along with numerous items found loose in the debris (radim). The objects include two stelae, a number of wooden weapons. The deposit of funerary material found in this area seems to have been made up of the contents of tombs that were destroyed by the cutting of the Dynasty 18 causeway to the temples at Deir el-Bahri, representing a significant number of burials of the late Middle Kingdom and Second Intermediate Period in Thebes.

This statuette represents a standing woman in a tripartite wig that falls over her shoulders and down her back, a tight-fitting, ankle-length dress, and sandals. Her skin is painted yellow, the most usual color for a female. Her jewelry -- anklets, a pendant, a necklace, and wig ornaments, as well as the cosmetic lines around her eyes, are added in silver leaf. On the base of the statue is an inscription, incised and painted white, asking that offerings be given to the the deceased, the Lady Dedetamun.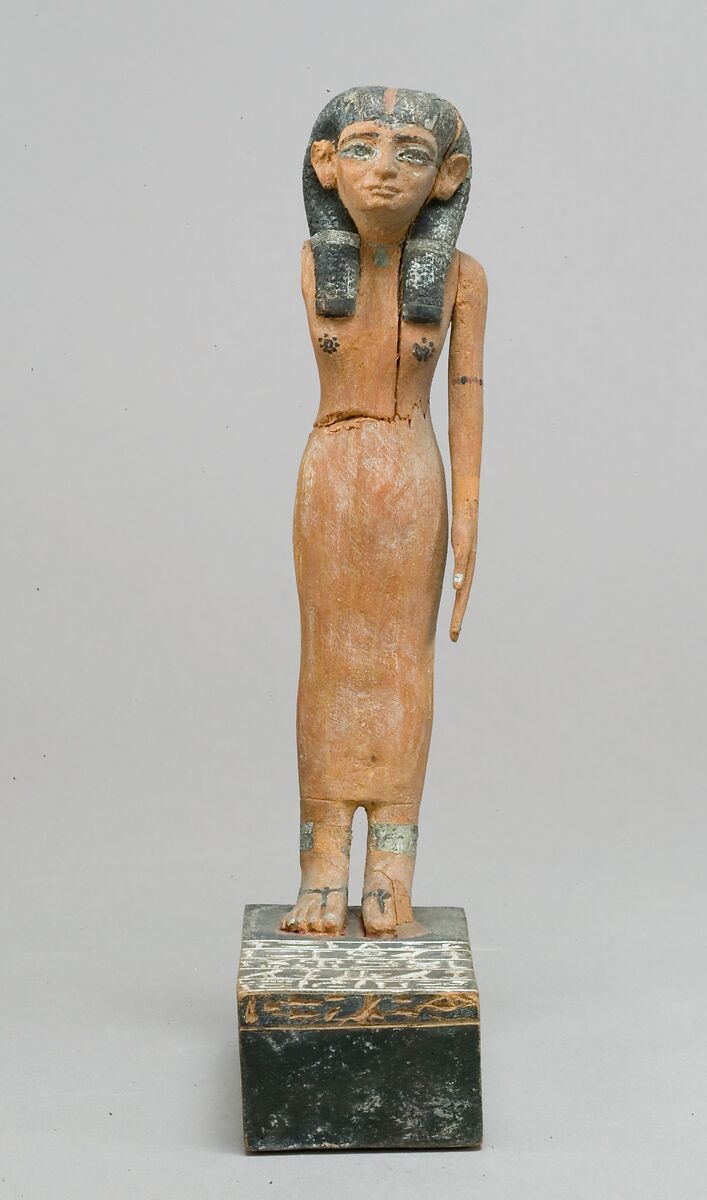 This artwork is meant to be viewed from right to left. Scroll left to view more.