Spacer with Hathor head
Third Intermediate Period (including Kushite)
On view at The Met Fifth Avenue in Gallery 125
A spacer is an element intended to keep multiple strands of a bracelet or necklace from becoming tangled. One face of this openwork example depicts the Hathor emblem from the sistrum. To either side are uraeus cobras, the one on the left wearing the red crown of Lower Egypt and that on the right the white crown of Upper Egypt. Lotus buds and blossoms with cats appear to either side. Cats on the one hand represent the pacified leonine goddesses, but the composite emblem with cats has a close association with the goddess Mut.

On the opposite face a god is seated on an open lotus, flanked by two winged uraei crowned with sun disks. Although the god on the lotus is usually an avatar of the sun-god, in particular a child representing the new-born sun, the god here is adult, fully anthropomorphic, and wears a double crown. This crown is worn by a number of gods, but also by Mut, although her presence on the lotus would be difficult to explain. The god holds a formal bouquet: this type of bouquet has a name related to the Egyptian word for life, and so is used here as a sportive writing of the life-sign usually held by a god.

Technically, the spacer is astonishing: to produce it two panels cut free-hand in faience body material were joined by a rim and fired.
.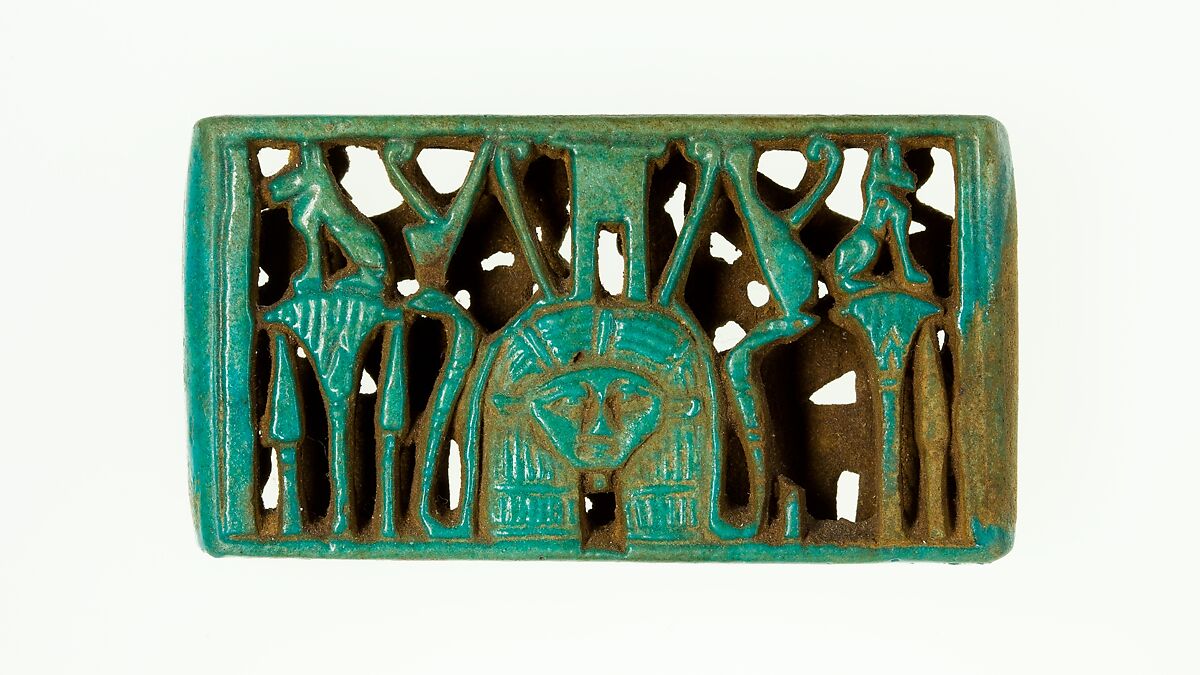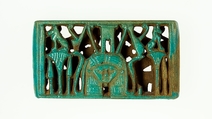 This artwork is meant to be viewed from right to left. Scroll left to view more.