Relief from the West Wall of a Chapel of Ramesses I
New Kingdom, Ramesside
On view at The Met Fifth Avenue in Gallery 129
Ramesses I, first king of Dynasty 19, was a military officer from the eastern Delta. He served as a general and vizier under Haremhab, last king of Dynasty 18, and was designated by Haremhab as his successor. Ramesses was probably quite old when he became king and most of his monuments were finished by his son, Seti I.

In a chapel dedicated by Seti to Ramesses, the west wall, depicted here, is the focal point. It is divided centrally, with scenes of Ramesses I on the right and those of his son Seti I on the left. In the two scenes from the bottom register that are preserved here, the image of Osiris is replaced by a cult symbol of the god that was used at Abydos.

On the right, Ramesses, described as "maker of monuments in the Abydos nome for the lord of continuity, who satisfies the heart of Onnophris with what he has desired," presents offerings to the Osiris symbol accompanied by Isis. On the left, Sety, described as "doer of effective things for Onnophris, caretaker of the Ennead of the Sacred Land," presents a statue of himself offering a jar of myrrh to the symbol accompanied by Horus. In return for the offering, Osiris says to Seti: "My chosen son of my body, lord of Two Lands, Menmaatre (Seti's throne name), my heart is happy and content because you have acted. You are my son and protector. As long as the sun exists, your name will exist. As long as the sky exists, your deeds will exist."

The upper register (now lost) centered on the djed pillar, symbol of Osiris. To the right, Ramesses was shown offering a bouquet to the statue of Osiris accompanied by Isis. To the left, Seti presented offerings to the statue of Osiris accompanied by "Horus, son of Osiris."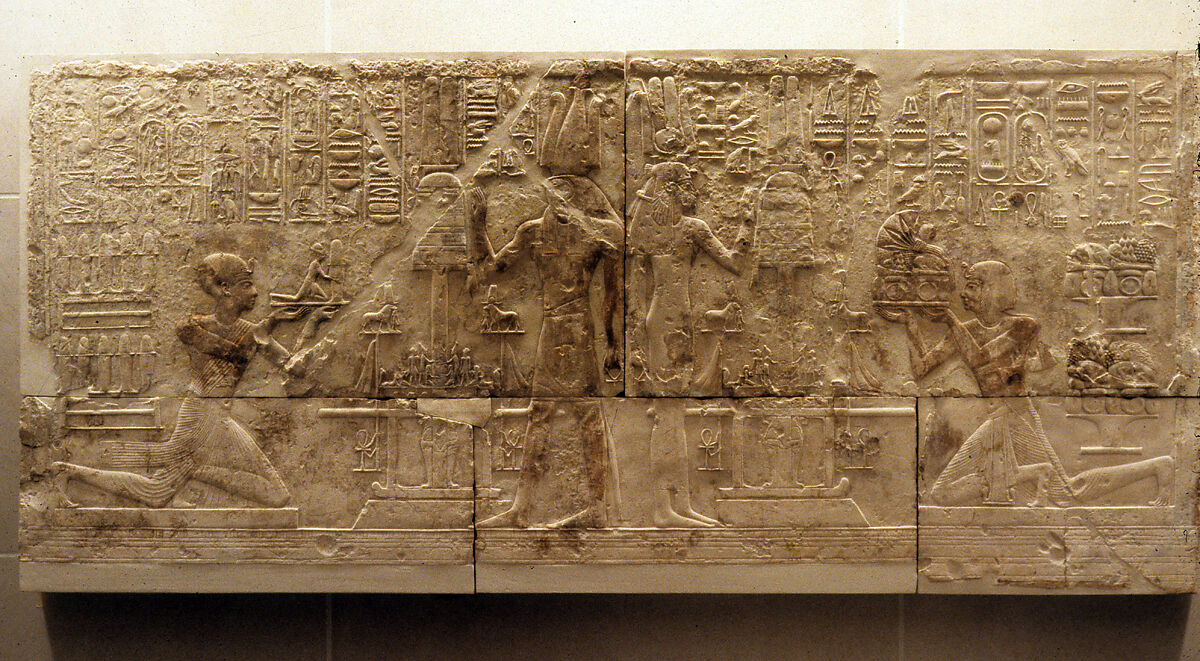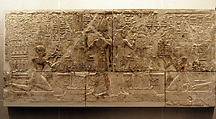 This artwork is meant to be viewed from right to left. Scroll left to view more.