Pitcher
Manufacturer Charles Cartlidge and Company American

On view at The Met Fifth Avenue in Gallery 774
The mid-nineteenth century porcelain manufactory of Charles Cartlidge and Company in Greenpoint, Brooklyn, produced a variety of slip-cast wares for the middle class market. The firm offered a wide array of forms which included tablewares and pitchers, along with mundane, everyday objects (inkstands, paper weights, spittoons, etc.) to highly specialized items. Among the company's favorite designs are the relief-molded pitchers of either corn and cornstalks or oak leaves and acorns. The most significant Cartlidge pitchers are those with shields and inscribed with names, often made for tradesmen or saloon keepers.
This example is a presentation pitcher for Edmund Jones, lessee and proprietor of the Claremont, a resort hotel built in the early 1880s, on the Bloomingdale Road (what is now Riverside Drive and 124th street in the Morningside Heights neighborhood of Manhattan). The historic resort hotel was depicted in "The Claremont," an undated painting in the American Wing collection (54.90.169). Painted by an unidentified artist, the scene illustrates the celebrated hotel during its heyday, complete with flying banners emblazoned with the names "E. Jones" and "Claremont."
This pitcher may be the mate to an almost identical example in the Museum of the City of New York (49.44.4). It is possible that the pair of pitchers were given to Edmund Jones by Cartlidge in an attempt to advertise his firm's products. These two pitchers—or perhaps more—may have been used at the hotel's bar, and when in use, the "American Porcelain" inscription on the inside of the spout would have been easily visible to all. Even though the Cartlidge firm produced multiples of these presentation pitchers, each one tells a different story. Besides advertising the manufacturer's works, this pitcher illustrates how the firm created special commissions for local businessmen and outfits.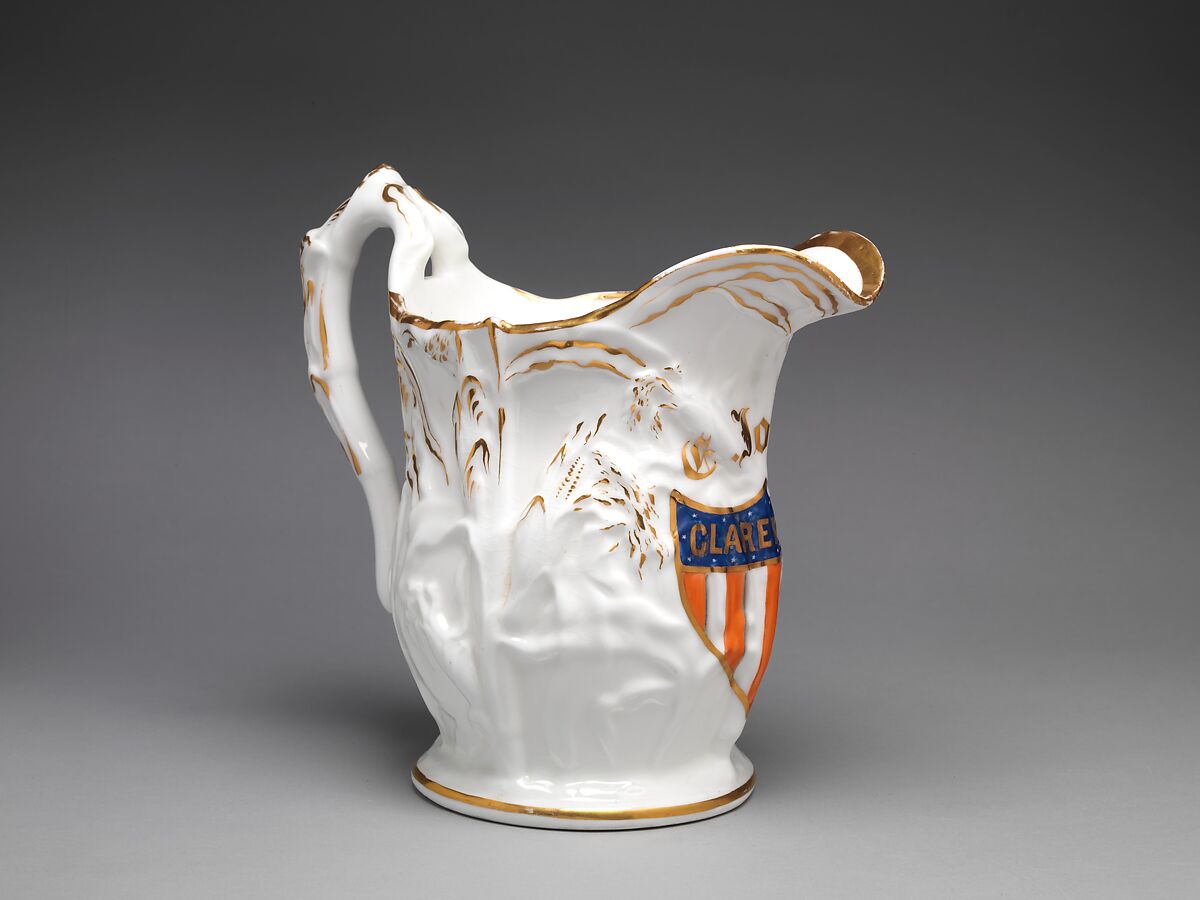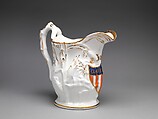 This artwork is meant to be viewed from right to left. Scroll left to view more.