Clutha vase
Designer Christopher Dresser British, Scottish
Manufacturer James Couper and Sons, Glasgow Scottish
Retailer Liberty & Co. British

On view at The Met Fifth Avenue in Gallery 516
Christopher Dresser came to glassware relatively late in his career. This vase belongs to the group of glassware trademarked "Clutha" in 1888 by the Glasgow-based glassworks of James Couper & Sons. From this date until 1896, Dresser was sole designer of Couper & Sons' Clutha glassware, which was retailed by Liberty & Co. in London from the 1880s until around 1900. The name "Clutha" was deliberately historicizing, being the old, perhaps romanticized, Gaelic name for Glasgow's river Clyde. In an article published in the 1870-73 Technical Educator, Dresser celebrated how "Glass has a molten state in which it can be blown into the most beautiful shapes" and the designs of most of Dresser's Clutha vases depend upon this singularity of the production process; embracing irregular, organic forms and prizing the colored striations, as well as bubbles, particular to the medium, which Dresser also admired in Roman glass. Liberty & Co.'s publicities described Dresser's Clutha glassware as "decorative, quaint, original and artistic."

However, "quaint" hardly applies to this example, which shows Dresser's taste for the techniques and properties of the medium in a different, very particular way: its elongated form and clean, uninterrupted outline is attainable thanks to the lack of any necessary joins in the blown, drawn glass; the graceful patterning in opaque green glass accentuates this quality, being not applied to the vase's surface but rather fused within it and developed as the glassblower gave the vase its form. The vase is flawlessly executed, showcasing the great skill and craftsmanship of its maker at James Couper & Sons' glassworks. The vase's regularity, which is quite unlike most other Clutha vases, finds its closest parallel in the crisp contour and ribbed decoration of the second, smaller, blown and molded Clutha vase in the Met's own holdings: 1991.20.2. More akin in outline to Dresser's designs for metalwork of the 1880s, it is likely that this object, and less distinctively 1991.20.2, are early examples of Clutha designs, before Dresser developed the more popular, organic, consciously archaic and more art nouveau-like forms most typically associated with his Clutha glassware, characterized by the museum's other example, 1998.160.
#418. Christopher Dresser and the Birth of Industrial Design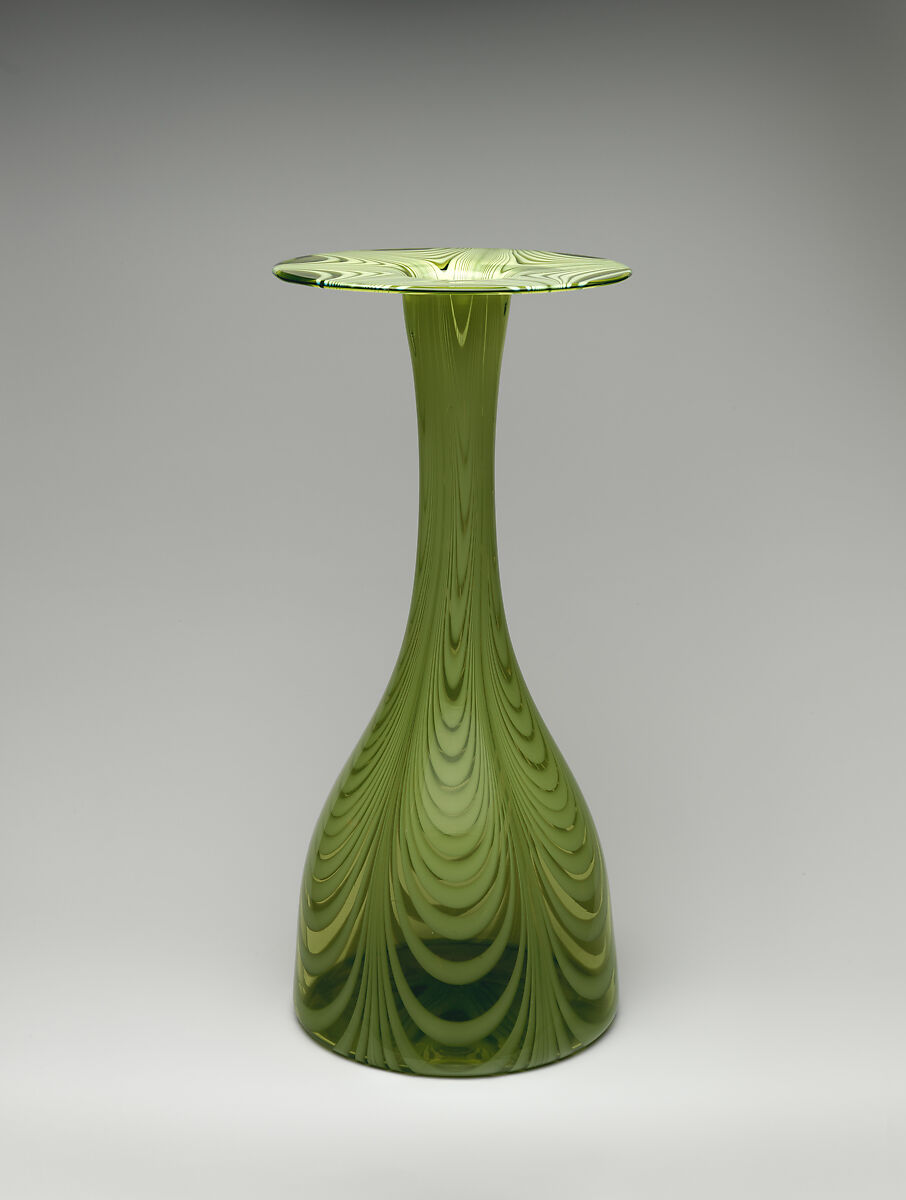 This artwork is meant to be viewed from right to left. Scroll left to view more.