Stucco Fragment
Not on view
This object was excavated at Nishapur.

Nishapur was a vital city in the early and middle Islamic periods, located along one of the main trajectories that connected Iran and West Asia Islamic lands with Central Asia and China. These itineraries are often referred to by the term 'Silk routes' but were in fact crucial to the movement of constellations of materials and objects, as well as people and ideas. The diverse population of Nishapur and its surroundings, from the better-researched elite groups of merchants, land-owning aristocracy, and literates, to the less-known artisans, farmers, miners, and servants, were instrumental in adapting global cultural trends to create their own distinctive visual languages. This is seen in the material remains of everyday life in medieval Nishapur – from pots and pans to lighting devices, inkwells, textiles and trimmings, jewelry, games and toys, talismanic devices, weapons, coins, and architectural fragments.

Nishapur lost its political prominence due to a series of earthquakes and invasions that peaked in the thirteenth century. Today, the medieval city is a vast archaeological area, while the relatively small modern city is situated to its north. Instead Mashhad, a major pilgrimage site, emerged as a major prosperous metropolis in the region. Between 1935 and 1948, the "Persian Expedition" of the Metropolitan Museum of Art excavated at several sites at Nishapur under an agreement with the Iranian authorities.

American archaeologists and hundreds of Iranian workers excavated archaeological areas named Tepe Madrasa, Village Tepe, Sabz Pushan, Qanat Tepe, Tepe Alp Arslan, Vineyard Tepe, among others. They uncovered vast neighborhoods with mostly residential buildings, but also mosques, bathhouses, and possibly a governmental palace. Two main chronological phases were recognized in the sites: the first covers the ninth-tenth centuries and the second covers the eleventh-twelfth centuries. Thousands of artifacts were also recovered, mostly ceramic, glass, metal, and stone vessels, as well as carved and painted stuccoes and wall paintings, which were divided in half between the two countries, resulting in over four thousand objects in the Met's collection today.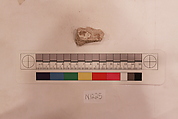 This artwork is meant to be viewed from right to left. Scroll left to view more.