One Hundred Boys
Kano Einō Japanese

On view at The Met Fifth Avenue in Gallery 230
The signatures and red intaglio seals appearing at the left- and rightmost corners of these brilliantly painted small-format screens read, respectively, "painted by Kano Nuidonosuke Einō" and "Sansei." The character "San" (mountain) of the "Sansei" seal refers to Einō's father, Sansetsu (ca. 1589–1651), whom he succeeded as the third head of the Kyoto-based branch of the preeminent Kano family workshop. Unarguably the most important family of painters in Japanese history, the House of Kano served as official painters to the imperial and military elite for over four centuries. In addition to excelling in the family style, Einō is widely known as the author of History of Painting in This Realm (Honchō gashi), the first major history of painting written in Japan. His text, based on drafts by his father, was heavily influenced by Chinese histories of the subject, reflecting a continental bias that is also evident in his and other Kano artists' paintings.

While the felicitous theme of "One Hundred Boys" first appeared in China during the Song dynasty (960–1279), these screens are indebted to prototypes from the later Ming era (1368–1644), when the subject also appeared widely on ceramics and other decorative arts objects. The detail, variety, and sheer number of figures, executed in fine-quality pigments, along with other features of the screens' construction indicate that the family who commissioned them was aristocratic. They may have belonged to a bride's wedding trousseau, perhaps to inspire the creation of a large and joyous family.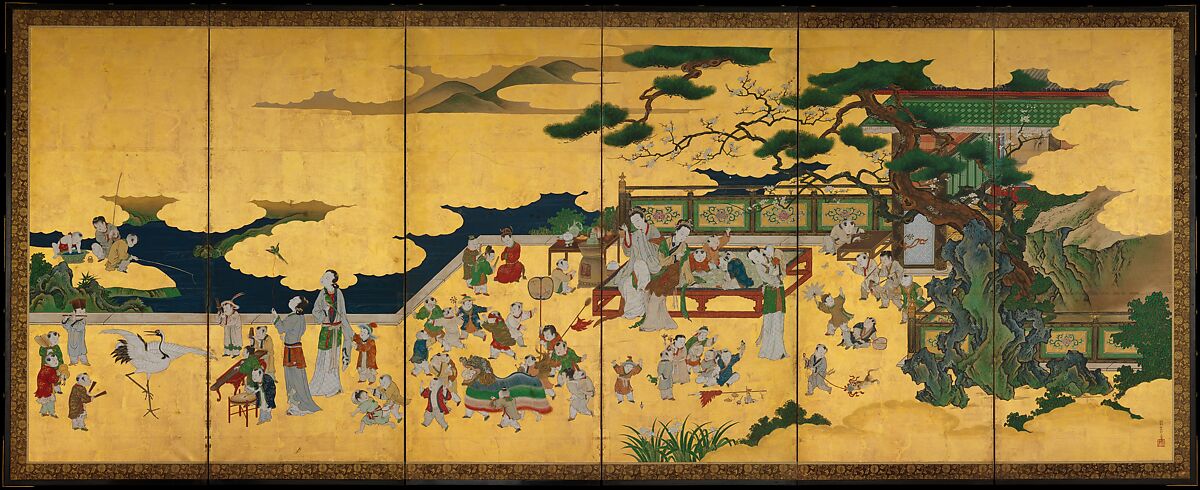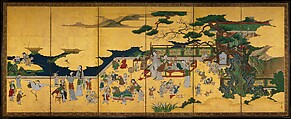 This artwork is meant to be viewed from right to left. Scroll left to view more.