Beauty on a Veranda in Snow
Sakai Hōitsu 酒井抱一 Japanese

Not on view
This painting of a slender, pensive-looking courtesan standing on a veranda in a light snowfall is indicative of Hōitsu's early training in Ukiyo-e painting. The woman's gesture, of raising the layered collars of her garb with concealed hands to veil the lower part of her face, appears in Ukiyo-e paintings as early as the late seventeenth century. Her hair, adorned with a comb and numerous pins, forms two winglike mounds that characterize the yoko-hyōgo hairstyle popular among high-ranking courtesans in the late Edo period. Hōitsu's beauty resembles courtesans in paintings by Utagawa Toyoharu (1735–1814), but her figure is more fragile and atten¬uated in appearance than those of that Ukiyo-e master, or even the courtesans in Hōitsu's earlier Ukiyo-e works, an example of which can be seen in the Museum of Fine Arts, Boston (acc. no. 11.7837).

The seal reading "Teihakushi" beneath Hōitsu's signature—"Playfully painted by Toryō"—suggests that this work was cre¬ated in the mid-1790s, when he began to use this name, but before 1797, when he took the vows of a Buddhist monk.

After entering The Met's collection in 2020, this work was reunited with a group of eleven hanging scrolls created around the same time by Hōitsu, each of which represents one of the months of the year (2017.283.1–.11). Beauty on a Veranda in Snow represents the missing twelfth month from the set. It is the only one to have been painted in the ukiyo-e style and as such may have been made first, reflecting the influence of Toyoharu, while the others could have been added slightly later, when Hōitsu's growing interest in the Rinpa master Kōrin began to inform his artistic output. Viewed together, these works reveal much about Hōitsu's activities from the late 1790s to the 1800s—a crucial juncture in his career as he began to abandon his earlier, experimental immersion in Ukiyo-e, Nanga, and yamato-e (traditional Japanese painting) in favor of Rinpa. This set of twelve paintings, executed in several different painting styles, explores subject matter ranging from typical seasonal motifs to courtly or traditional rituals, as well as at least one classic literary reference (the "Yūgao" chapter of The Tale of Genji, for the sixth month).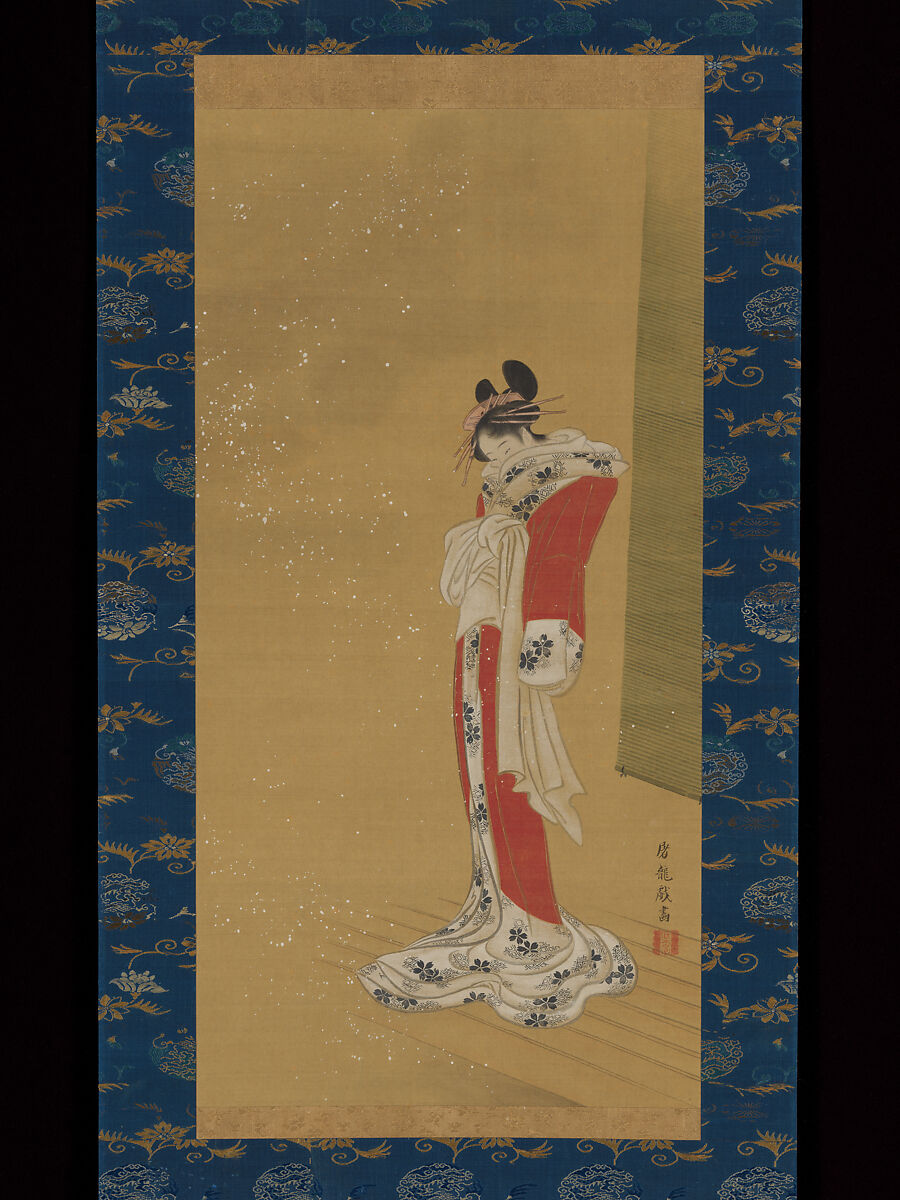 This artwork is meant to be viewed from right to left. Scroll left to view more.