Hall craft "Fantasy" teapot
Designer Eva Zeisel American

On view at The Met Fifth Avenue in Gallery 774
Eva Zeisel was a professional designer of dinnerware. Born in Budapest, in the 1920s and 1930s—early in her career——she had worked in the German and Russian ceramic industry and developed a reputation as a leading modernist designer of ceramic tablewares. At the outbreak of World War II and facing the double threat of the Nazis and Stalin's Communism, she fled Europe and arrived in New York in the fall of 1938, and quickly found work teaching and designing giftware. After the war she was commissioned to create an informal dinnerware service, Bohemian and liberated in sprit.

Zeisel's Tomorrow's Classic line dating to 1949-50, was for the Hall China Company in East Liverpool, Ohio. The firm wanted dinnerware that could bear transfer patterns and would appeal to the average housewife—a dinnerware which would never go out of style, but sales would be refreshed by issuing new patterns that would stimulate sales. It features fluent, curvaceous forms with crisp thin edges——and conveying an elegance lacking in the dinnerware produced by her primary competitor the designer Russell Wright.

To accommodate the number of decorative surface designs—all produced by applying decals to the glazed forms—Zeisel was asked to produce the designs—and there were many—she was contracted to provide nine patterns in the first year. She employed a team of artists The "Fantasy" design, seen on this teapot, is abstract and mathematical, akin to atoms circling a nucleus. It was the result of a collaboration between three architecture students at Pratt Institute—William Katavolos, Douglas Kelley, and Ross Littell. Tomorrows Classic" became Zeisel's most popular design. The number-one selling dinnerware of the 1950s, it brought modern design—and the industrial designer—to the forefront of many an American home.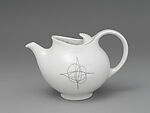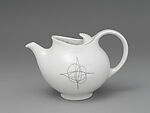 This artwork is meant to be viewed from right to left. Scroll left to view more.