On loan to The Met The Met accepts temporary loans of art both for short-term exhibitions and for long-term display in its galleries.
Vase
Designer Edward Lycett American
Faience Manufacturing Company American

Not on view
Edward Lycett's work at the Faience Manufacturing Company in Greenpoint, Brooklyn, New York, is some of the most innovative and elaborate of this country's artistic ceramics during the heyday of the Aesthetic Movement. A British émigré, by the time Lycett arrived in New York as a young man in 1861, he had already been well-trained as a china decorator in Staffordshire, England's center of ceramic manufacture. Lycett joined the Faience Manufacturing Company in 1884 and assumed the position of art director. Soon, the firm's work became considerably more adventurous and elaborate, often in exotic forms inspired by works from the Islamic World and featured complex overglaze decoration in colored enamels and gold.




While most of Lycett's and the Faience Manufacturing Company's ornamented work harks to the overglaze enamel and gilded decoration of flowers and birds reminiscent of the work of Crown Derby and Royal Worcester, the two examples from the Wigmore Collection reveal the firm's and Lycett's more experimental nature and his highly skilled abilities. This fishbowl-shaped vase, in its relief-molded and naturalistically painted decoration, is a departure from the more favored Islamic forms. Instead, it looks to the work of famed Renaissance potter Bernard Palissy in its three-dimensional naturalistically rendered marine creatures and vegetation. It also can be seen as a humorous pun on the fishbowl reference—the fish are no longer within the bowl, but literally "swimming" on the bowl's surface. It is quite simply one of the most extraordinary examples in terms of its form, scale, and decoration of Lycett's oeuvre that has come to light.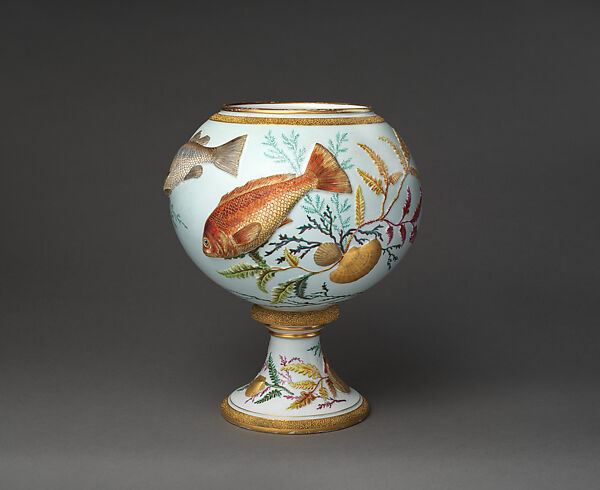 This artwork is meant to be viewed from right to left. Scroll left to view more.