Evening dress
Design House House of Balenciaga French
Designer Cristobal Balenciaga Spanish

Not on view
This short evening dress of black lace consists of three layers. The first layer is a built-in bra supported by six bones, two in front and back, one at each side. The second layer is a slip of cream-colored silk with a sheer black chiffon overlay. The slip is shaped like a sheath and has a wide band of lace at the hem. The outer layer consists of a loose-fitting baby-doll dress with a triple tier of ruffles on the skirt. The dress has a boat neckline, and shoulder straps of black satin ribbon finished in bows. There is a zipper closure at the left seam.
Balenciaga's propensity for lace ruffles is generally taken to be an allusion to the tiered flamenco skirts of the designer's Spanish heritage, as reinforced by the imagery of Goya. Indeed, Spanish art was a recurrent source of inspiration for the designer. Even as he extrapolated from the fit of flamenco to the swaying cone of the baby-doll silhouette, Balenciaga employed the ruffle tiers as an attenuated memory of Goya and fashion history. The tiers are reinforced by loosely woven horsehair.
The dress is a couture copy of model 73 in the fall/winter 1965 runway show and was featured in the exhibitions The World of Balenciaga (1973) and Haute Couture (1995–96).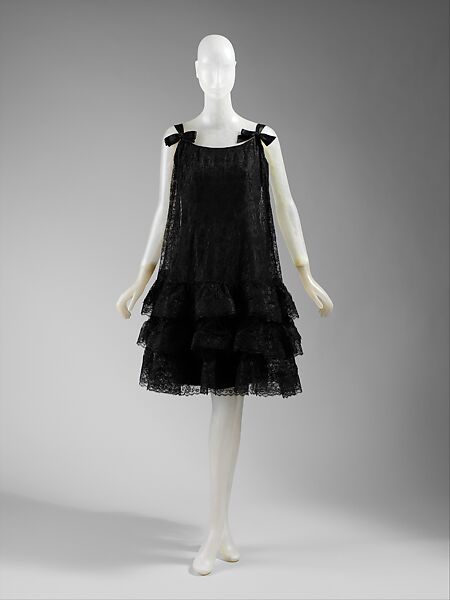 This artwork is meant to be viewed from right to left. Scroll left to view more.