Daimyo Procession to Edo
Not on view
This deluxe handscroll painted on silk, captures the pageantry of a grand procession of a daimyo (feudal chieftain) and his entourage en route from their home province to Edo (present-day Tokyo), the military capital of the day. During the Edo period, on a biannual basis, daimyo were required to travel to Edo, where the Tokugawa shogunate had been based since the early seventeenth century, and take up residence there under the sankin kōtai (alternate attendance) system. Hundreds of retainers are shown transporting weapons, ceremonial accoutrements, and personal effects that bespeak the daimyo's military and financial might. Some are mounted on horses; the daimyo and certain other members of his family are carried in palanquins.

In contrast to most depictions of daimyo processions, the scroll opens with a touching scene of a samurai family—a mother nursing a baby, an adult man, a young boy, and two teenage boys—perhaps meant to represent the members of the family that the daimyo must leave behind while he embarks on a trip to Edo. The style in which this genre vignette is handled suggests that the scroll was painted by an artist in the studio of Hishikawa Moronobu, renowned for his role in pioneering the category of painting and printmaking now known as ukiyo-e ("pictures of the floating world"). Another special aspect of this depiction, in the middle section of the scroll, is group of four wakashu (male youths) on elaborately saddled horses attended by grooms; we may assume that these were favorite attendants of the daimyo. Same-sex relationships between elite samurai and wakashu were well documented, but it is rare to see it alluded to in an official work such as this, which is another reason this work can be attributed to an artist in the lineage of Moronobu.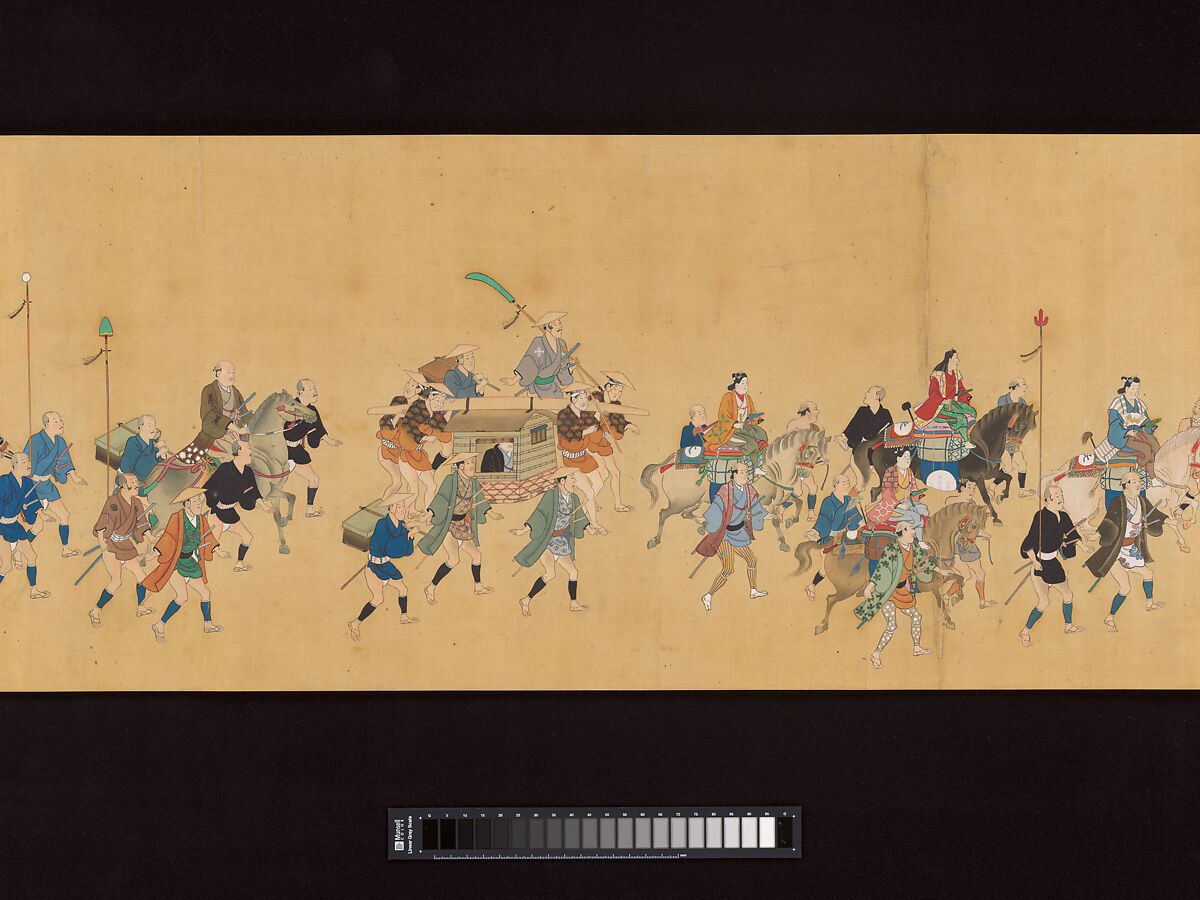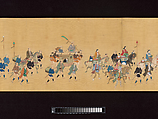 This artwork is meant to be viewed from right to left. Scroll left to view more.