Presentation Sword Honoring Commandant Jean-Baptiste Marchand (1863–1934) for His Conduct at Fashoda
Hilt designed by Jean-Joseph-Marie-Anatole Marquet de Vasselot
Hilt decorated by Louis Alphonse Auger French
Hilt probably cast by Siot-Decauville French

Not on view
This sword occupies as special place among the many presentation swords made in nineteenth-century Europe for the Orientalist theme, sculptural qualities, and polychrome ornamentation of its elaborate hilt. It is also potentially unique for the attention that its original design aroused at the time in France and beyond. The hilt was designed by the sculptor Anatole Marquet de Vasselot (1840–1904) for a sword that the daily newspaper La Patrie wished to award to the French military officer Jean-Baptiste Marchand (1863–1934). The sword was intended to honor the spirit, abnegation, and competence that Marchand had shown in Africa as the leader of a small expeditionary force known as the Congo-Nile Mission. The initiative of commissioning a sword of honor, and the prospect of presenting it on behalf of its readers supported La Patrie's bid to speak for the French nation, and bestow a formal recognition that the government seemed unwilling to consider.

The sword under consideration is the best-preserved of the three examples known to have been made. The art foundry Siot-Decauville appears to have been entrusted with the casting of the hilt of each sword and the related scabbard mounts. The jeweler and goldsmith Alphonse Auger (1834–1904) carried out the chased, gilt, and enameled ornamentation of those elements as well as the carving of the cabochons on their knuckle guards. The blades were standard infantry officer examples made by Coulaux at Klingenthal or the Manufacture d'Armes of Chatelleraut.

The design of the hilt shows that Marquet de Vasselot had closely examined ancient Egyptian religious art. The goldsmith and jeweler Alphonse Auger apparently shared his antiquarian interests. With René Lalique, he is among the French jewelers working in the Art Nouveau style that are known to have appreciated and drawn inspiration from Ancient Egyptian jewels. As Marquet de Vasselot and Auger had worked together on the creation of a presentation sword for General Alfred-Amédée Dodds (1842–1922) five years earlier, the conditions for a successful collaboration were presumably in place when they engaged in the creation of a presentation sword for Marchand.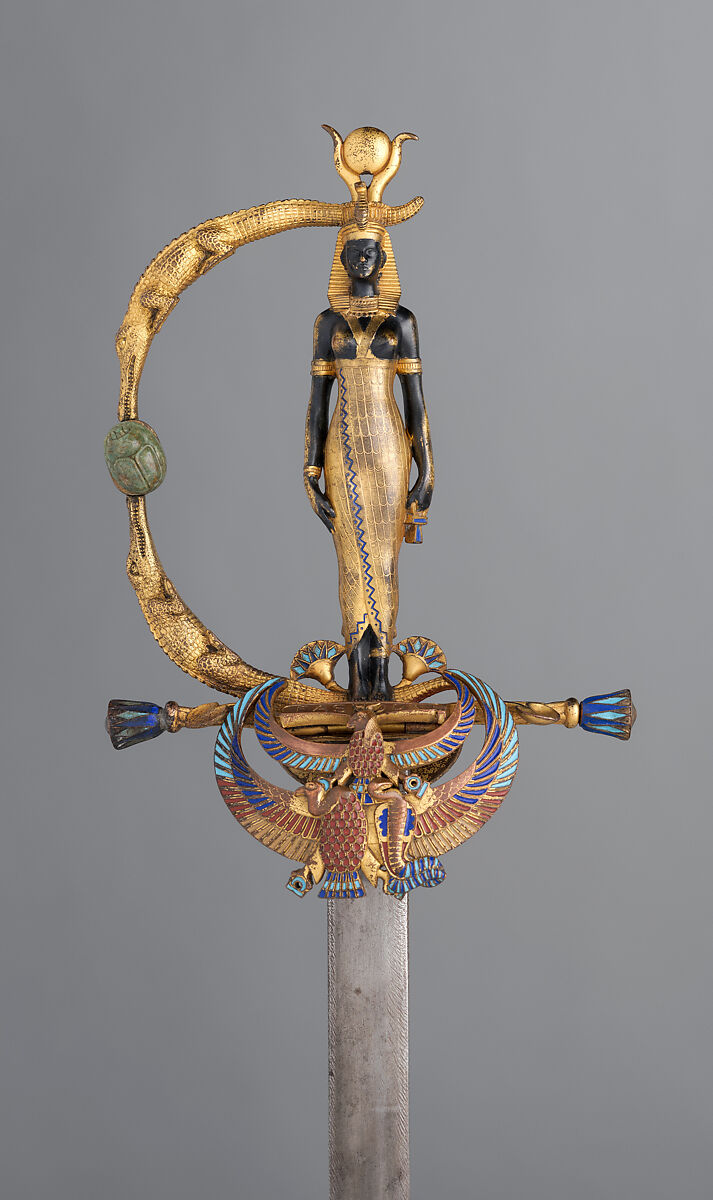 This artwork is meant to be viewed from right to left. Scroll left to view more.