Monk Ippen Giving a Warrior the Tonsure and His Wife as a Lay Buddhist Nun
Yamada Shinzan 山田真山 Japanese

Not on view
This diptych of hanging-scroll paintings appears to be inspired directly by scenes from the Illustrated Biography of Monk Ippen (Ippen hijiri-e), which is best known in a narrative handscroll (emaki) version created in 1299, now designated as a National Treasure, but as well as from later copies and photographic reproductions. The original set of twelve handscrolls, with alternating texts and painted sections, describes the religious career of Monk Ippen (1239–1289), founder of the Ji sect of Buddhism, which placed faith in Amida Buddha, and advocated the practice of nenbutsu, or the recitation of Amida's name. The third section of the fourth scroll captures events of 1278, when the itinerant monk visited Fujii in Bizen province (present-day Okayama) to continue his mission to covert people to the teaching of the Ji Sect. The right scroll here shows a depiction of a lay Buddhist nun, the daughter-in-law of a head priest of Kibutsu Shrine in Okayama, who had just been given the tonsure by Monk Ippen, shown seated at an armrest holding Buddhist rosary beads. On the left, her husband, a warrior who had previously threatened Ippen with his sword, is shown at the moment the monk in black robes is giving him the tonsure.

The artist, Yamada Shinzan, was born Tokashiki Kenshin in the Okinawan prefectural capital of Naha in the middle of the Meiji period. He left Okinawa for Tokyo in his teens and entered the program in sculpture at the Tokyo Fine Arts School (Now Tokyo University of the Arts) under the tutelage of Takamura Kōun and Yamada Taiun, who ultimately adopted the promising young artist. Shinzan subsequently studied Nihonga-style painting with Kobori Tomoto (1864–1931), an Imperial Household Artist, professor at the Tokyo Fine Arts School, and a major figure in Nihonga of the early twentieth century. In his late twenties and thirties, Shinzan entered Nihonga-style paintings in a number of exhibitions, including the prestigious government-sponsored Bunten. Shinzan returned to Okinawa at the onset of the Second World War, during which he lost two of his own sons and transitioned to a life of political activism and large-scale sculptural works with overt political messages. For instance, he created a largescale prototype of the Okinawa Peace Memorial Statue enshrined in the Okinawa Peace Memorial Hall. He also nurtured the early careers of several young Okinawan artists in the postwar period and brought attention to Okinawan art and history through several major serial publications.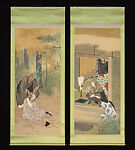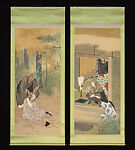 This artwork is meant to be viewed from right to left. Scroll left to view more.