Partial tea set (teapot, sugar bowl, cream pitcher, slop bowl)
Union Porcelain Works American

On view at The Met Fifth Avenue in Gallery 706
The Union Porcelain Works was one of the most important porcelain manufactories in America during the last quarter of the nineteenth century, and the most significant firm in the New York area. Although it maintained a successful bread-and-butter production of hotelware, its fame derives from the hire of German-born sculptor Karl L. H. Muller in advance of the nation's Centennial Exhibition in Philadelphia in 1876, for which he designed a large number of major exhibition pieces, several of which are in the Museum's collection. Their display featured some of the most inventive designs produced by American factories. Although many of their wares were of monumental scale, they included among the exhibit three diminutive "tete-a-tete services," as they were called, and elicited "admiration from the delicacy of the ware and shape, and for beauty of design," in the critical press of the day.


The forms and their decoration, as was typical of the Aesthetic movement, were an amalgamation of different historical sources, to which was added an almost Gothic sensibility with the addition of figural finials and sculptural animal elements. In their overall conception, the sets can be seen as eighteenth-century rococo conceits interpreted by a creative designer working in late-nineteenth-century America. The traditional vessels have taken on new character through their teeming depictions of real and imaginary flora and fauna—each of the principal pieces is supported by four rabbits; fanciful birds adorn the handles of the sugar bowl; a winged grotesque supports the teapot's spout, and a small lizard appears near the base, while two foxes play on the handle. The handles on all the serving pieces are the exotic pitcher plant. On this set, the forms are covered in a rich matte blue ground and they feature oval vignettes in which are delicately painted scenes of flowers, birds, and butterflies. Delicate vines of leaves and tendrils surround the medallions and ornament the borders. One period source described this particular service as one where "birds of various kinds, in brilliant plumage, appear among a mist of lowers on a background of rich matt blue."


The tea set, however, presents troubling imagery on the finials of the teapot and sugar bowl, in the form of heads of an Asian man, meant to allude to the teapot's contents, and that of a Black man, intended to represent a West Indian sugar cane worker, alluding to the sugar bowl's contents as well. While the designer Karl Muller's intent was to present well-known iconography for tea and sugar—a goat is also depicted on the handle of the creamer—the representations reveal the pervasiveness of racist thought in 19th-century America. The Black head also underscores how the commodity of sugar was inextricably linked to the exploitation of enslaved labor, especially in the Atlantic World.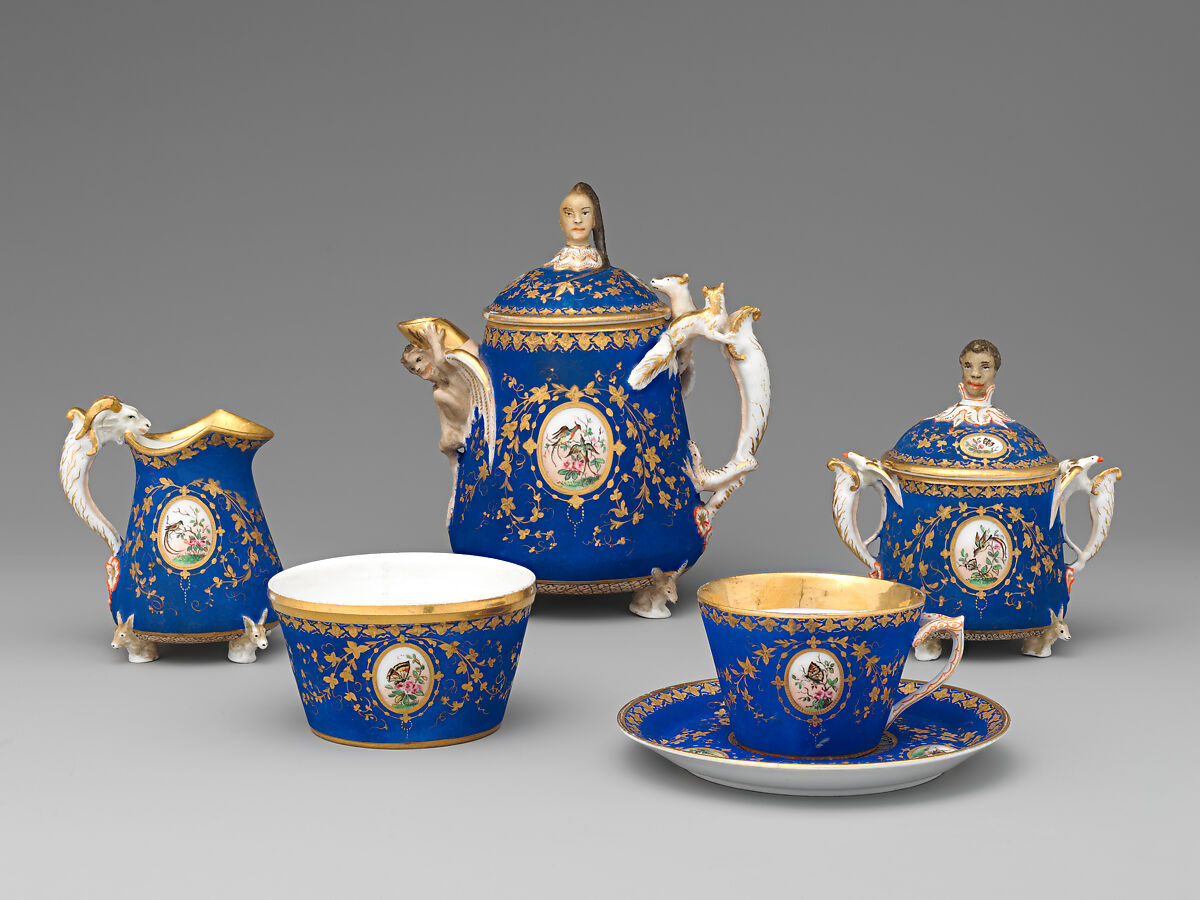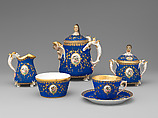 This artwork is meant to be viewed from right to left. Scroll left to view more.