Three Friends of Winter
Tomioka Tessai 富岡鉄斎 Japanese

Not on view
In a fantastical mountain landscape, a solitary scholar sits in the study of his thatched roof hermitage, while a servant boy sweeps the garden in which a pet crane prances. The rustic hermitage is set within a grove of ancient plum trees in full bloom—the central focus of the foreground. Another gentleman, also in bright orange robes, sits on a stone bridge gazing up at a waterfall and the magnificent mist-shrouded peaks beyond. Accents of blue and green indicate that spring has arrived. In the far distance, precipitous peaks are rendered abstractly in light blue washes to connote mist and remoteness.

The composition is inscribed by the painter Tessai with a seven-character couplet of Chinese verse composed by Huangbo Xiyun (died ca. 850), an eminent Chan (Zen) master of the late Tang dynasty. It reads:

不是一番寒徹骨
怎得楳[=梅]花撲鼻香

念頭稍緩時便宜荘誦一遍

If you have not endured
bone-chilling cold,  
How can you enjoy
the scent of plum blossoms?

When you have a moment to relax, take this to mind again.

(Translated by John T. Carpenter)

The original poem is preceded by the lines, "Escaping the dust of the world is no easy task / you must practice diligently, like learning to tie knot in a rope." The artist is thus reminding us that only if we have endured the trials and tribulations of life—suggested by the metaphor of a harsh winter—can we fully enjoy its pleasant aspects.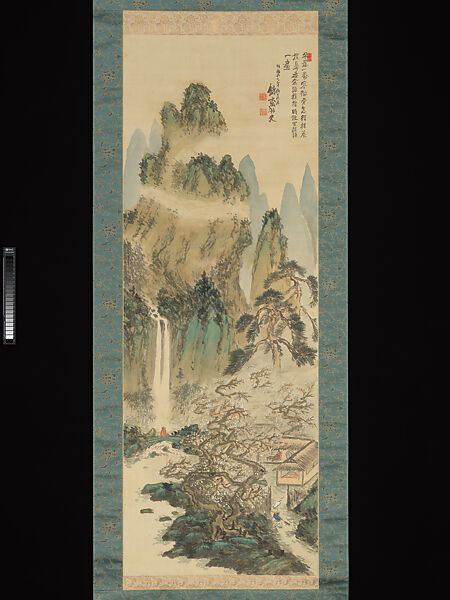 This artwork is meant to be viewed from right to left. Scroll left to view more.