Rock in the Shape of a Fantastic Mountain
Tomioka Tessai 富岡鉄斎 Japanese

Not on view
This startling composition by the renowned modern Literati painter Tomioka Tessai captures the appearance of an upright Taihu rock. In Chinese gardens such rocks were understood to represent fantastical mountains with dimples and holes suggesting grottoes. Tessai has brushed this rock with various layers of wet and dry ink brushstrokes to suggest its rugged surface and highlight its unique shape. Two sprigs of auspicious fungi painted in pale vermilion stick out from behind the rock. An inscription in Chinese by the artist, brushed in his idiosyncratic hand, resonates with the bold outlines of the rock. Tessai relates the famous story of Mi Fu (1051–1107), a noted poet, artist, and politician of the Northern Song dynasty, who discovered what he called his "Elder Brother Rock," and had it moved to his garden. Tessai was no doubt copying the account a from a later Japanese recension of the Song-dynasty collection of literary anecdotes Random Notes of Master Liangxi (Liangxi manzhi 梁溪漫志) by Fei Gun 费衮. Tessai's transcription reads:

米元章守漣聞有怪石在河壖、莫知其自來所。人以異而不敢取。米命移石至州治、爲讌游之玩。石至而驚。遽命設席拜於庭下曰:吾欲見石兄廿年矣。言者以爲罪坐罷去。竹坡周少隱過是、見石而感之曰:喚錢作兄真可憐、喚石作兄無乃賢。望塵下拜良可笑、望石下拜不同調。

When Mi Fu was serving as a commissioner near the Lian River, he encountered a strange rock on the riverbank. No one knew where it came from and thought it was odd, so they did not dare to remove it. Mi Fu, however, ordered the rock to be moved to his residence and displayed it for drinking parties. He was astonished when the rock arrived. He ordered a mat to be placed in the courtyard and kneeled to greet the rock by saying, "I have wanted to meet you for twenty years, my elder brother rock!" People thought his behavior was criminal and sanctioned him, causing him to resign from official duties. When [the poet-official] Zhou Zizhi (1082–1155) passed through this place, he expressed his opinions on the matter:

While it is pathetic to call money an "elder brother."
Isn't calling a rock an "elder brother" virtuous?
Those who kneel to power are laughable.
Those who kneel to a rock are distinguished.
(Translated by Tim Zhang)

Tomioka Tessai was a Japanese painter and calligrapher who came to be recognized as one of the leading figures of the Bunjinga or Literati painting movement during the Meiji and Taishō period. He received training in painting from previous generations of Bunjin artists and is known as one of the last true literati painters in Japan due to his deep cultivation of Chinese literature and art. In this work, he recounts Mi Fu's story through the distinctive brushwork of both his painting and calligraphy, expressing his admiration of those literati of ancient China who were unrestrained in behavior and who had a deep love of nature.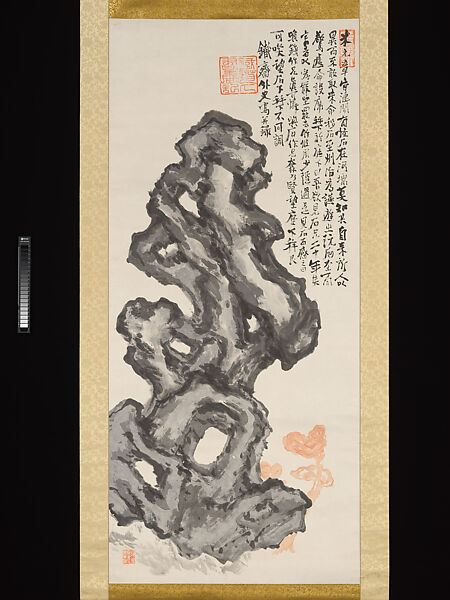 This artwork is meant to be viewed from right to left. Scroll left to view more.