Peonies
Fukae Roshū 深江蘆舟 Japanese

Not on view
A subtly colored but glorious array of peonies, white, pink and red, are rendered against leaves rendered in mottled ink and color washes. To add a deluxe touch, in places gold pigment was dripped into the outlines of the leaves as they were being painted. As with other paintings from this group, no doubt once mounted as a pair of six-panel screens, Roshū draws on ink painting techniques of previous Rinpa masters. Rather than working in shades of gray and black, he has employed the tarashikomi technique, in which mottled washes create gradations of mineral pigments that overlap and blend together to evoke pictorial depth and emotion. The colors of the flowers are modulated: dark red stands out from the pale red background; deep purple accents stand out against pale pink; white gofun (ground oyster-shell) pigment accents the grayish petals. While archaic in flavor for his time, still his paintings on floral themes have an enduring charm. His other known surviving paintings take up the theme of the Mount Utsu scene from the Tales of Ise (2015.300.91).

Other than his life dates, we know next to nothing about the artist's biography. Active in the early 1700s, his small surviving corpus shows that he worked in an archaic Sōtatsu mode of a century before. Some sources speculate that he trained with the Rinpa master Ōgata Kōrin with whom his life span overlapped, but that cannot be confirmed.

Originally a pair of six-fold screens, remounted as hanging scrolls; other examples from the same set are found in the in Feinberg Collection, Harvard University (Fig. 2); St. Louis Art Museum (Fig. 3); Freer-Sackler Gallery, National Museum of Asian Art; Narazaki Muneshige Collection, and Hosomi Museum.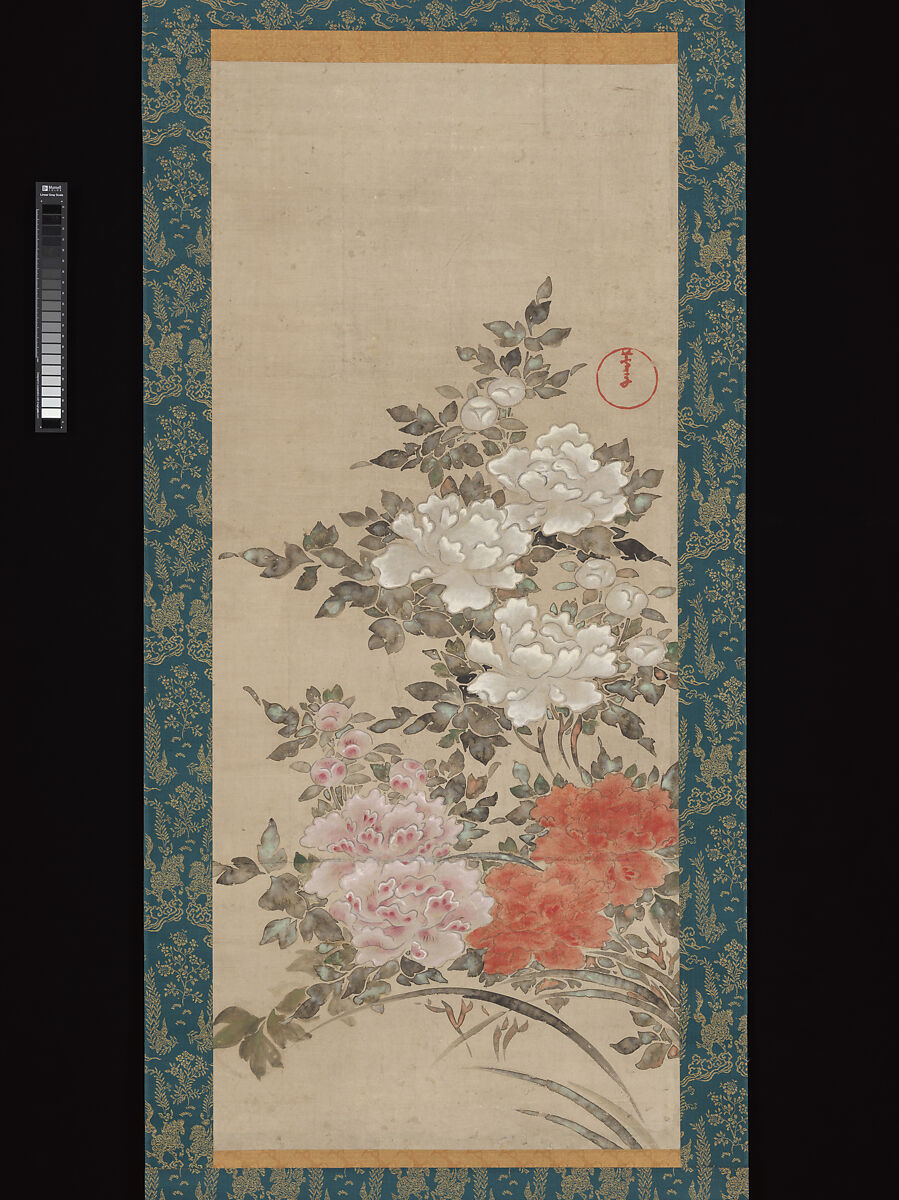 This artwork is meant to be viewed from right to left. Scroll left to view more.