Hanshan and Shide
Yosa Buson 与謝蕪村 Japanese

Not on view
The celebrated painter-poet Yosa Buson has portrayed a pair of legendary early Tang-dynasty Chan (Zen) monks: the happy-go-lucky Hanshan, on the right, carries on his back a scroll of paper for writing poetry; his ever-present companion Shide is shown turning away from the viewer, with his head hidden by a large bamboo hat. As here, Shide is often depicted carrying a broom, reminding us that he served as a temple janitor. Both were based at Guoqingsi, a monastery on Mount Tiantai in present-day Zhejiang province. They are often depicted in both China and Japan with joyful expressions, even laughing uproariously, to represent their beloved eccentric personalities, but here Buson depicted Shide from behind, without revealing his face, and painted a subtle smile on Hanshan's face. The effect is endearing and compelling.

Both figures, each occupying almost the entire oversize scroll surface, are executed with brusque ink brushwork and light color washes. The outlines of their robes were drawn with a large brush with calligraphic bravura, showing a variation of ink textures. The outlines of Shide's robe (on the left) were painted with a brush thoroughly soaked with ink. The folds of Hanshan's 'sleeves (on the right) were painted by dragging a dried brush with separated bristles across the paper, creating split lines that evoke a rough texture. The robes, broom, rocks, and background were quickly sketches with wet washes in light ink and light colors, which occasionally spread beyond the outlines, leaving and uneven tonality and traces of a stiff brush. Hanshan's face was outlined with a finer brush then filled in with an even application of color, giving the figure a calm, smiling face. The hairs of both figures were painted with two layers of ink; a dried and forked brush was used on top of wet ink washes, representing their tousled hairs in a rough quality.

Buson is not only counted among the most celebrated Nanga painters, he was also a renowned haiku poet. He was recognized for his calligraphic and brusque brushwork, which is exemplified in this pair of paintings. Tanomura Chikuden's (1777–1835) painting treatise, Rambling Stories of a Mountain Hermit (Sanchūjin jōzetsu 山中人饒舌, 1835), praises Buson for being on a par with Ike no Taiga (1723–1776) and used the term "trembling brush" (senpitsu 戦筆) to describe his iconic style, which is brilliantly exemplified in this work. Sasaki Jōhei, in his systematic study of Buson's oeuvre, positions this pair of hanging scrolls in the last decade or so of the artist's career (1770–1783) when his artistic style was completely his own. (Sasaki, 1998).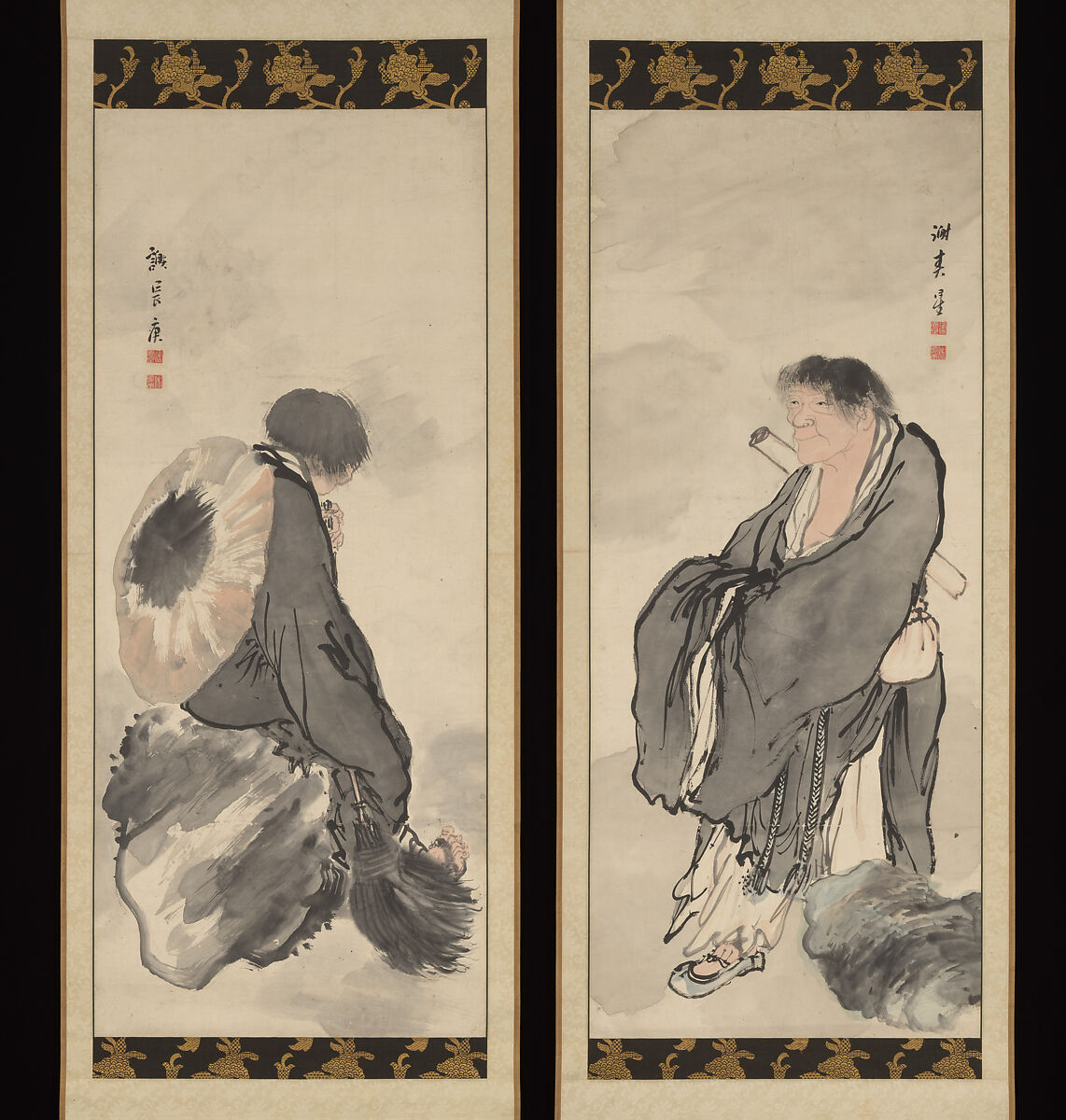 This artwork is meant to be viewed from right to left. Scroll left to view more.