Dort Etek Entari
Not on view
The entari, or robe, was the main element of women's dress in the Ottoman Empire, worn together with a chemise, or gömlek, and baggy trousers, or şalvar. Striking both because of its striped fabric and elaborate, knotted trim, this entari is made from a silk and cotton fabric called kutnu. Kutnu was made using silk warps and wefts that are cotton, or a mixture of silk and cotton, and as in this example, is often striped. The striped design is executed using extra warps of silk. A piece of this same textile identified as having been produced in Bursa, an important Ottoman silk production center, is in an Istanbul textile collection. The entari has a small stand-up collar, long sleeves open for their entire length, and is open down the front. The skirt is slit nearly to the waist, and the back skirt has a center slit, which makes this a four-skirt or dört etek entari, a much less common version of the entari. Long narrow triangular pieces of fabric have been added to the front and sides to increase the fullness of the skirt. The front, side slits and hem are all scalloped, while the sleeve ends are straight and finished with a narrow band of the garment fabric, arranged with the stripes perpendicular to the rest of the sleeve.

The sleeve ends are made up of smaller pieces of fabric sewn together somewhat randomly, suggesting that the tailor or seamstress was working with scraps to complete this part of the garment. The entire entari is lined with a pink fabric (often the open sleeves have a different lining) which may have been added later. The lining shows signs of wear suggesting that it could have been original, but it was added after the garment's trim was completed, which is unusual. It may have been an early replacement for an original lining that failed or added to freshen a beloved garment after a period of wear. The floral trim that decorates the garment is made of thick pink and green plied cord, twisted, and knotted together to form a delicate pattern of flowers, leaves and stems. It is tacked at intervals to the twisted trim, comprised of the same pink and green cord, which finishes all the garment edges.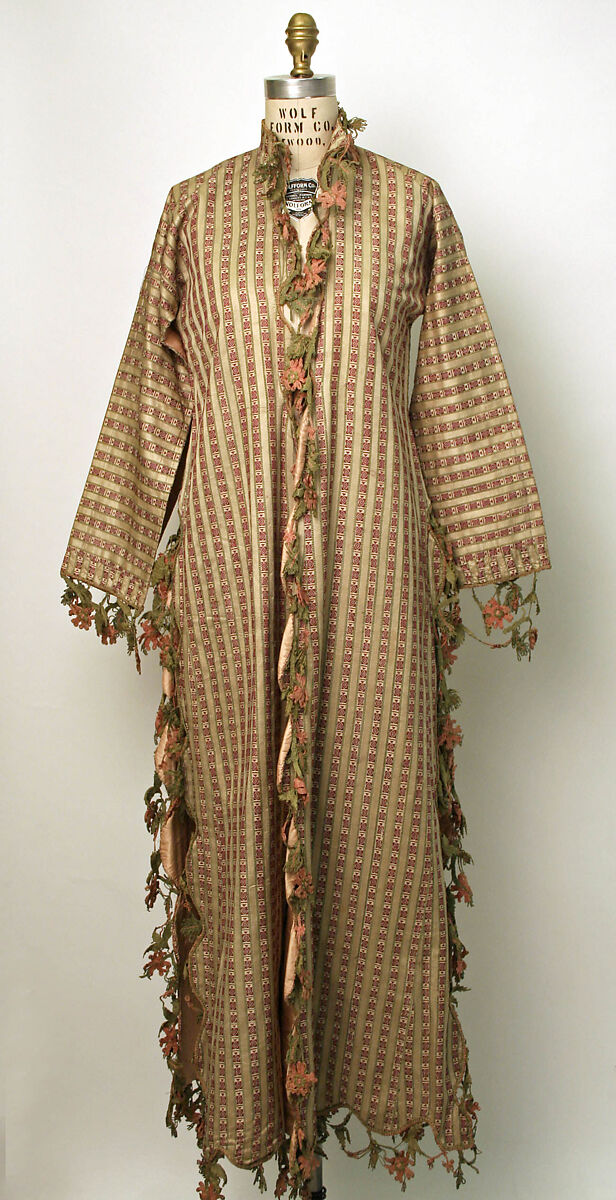 This artwork is meant to be viewed from right to left. Scroll left to view more.