Ensemble
Not on view
The dualities and contradictions that characterized male fashion in the early Napoleonic period are captured in this spectacularly schizophrenic ensemble. Under the disintegrating forces of the French Revolution (1789-1794), the 18th century confidence, some might say smugness, in its uniformity of aesthetic beliefs was to disappear. The restless need for social and political reform, which began in the 1780s and was fostered through the works of the philosophes, resulted in new patterns of consumption and new forms of self-expression. For a time, however, the ideas, values and aesthetics of the Ancien Régime competed and co-existed with those of the founding Republic.

This jockeying for position between the old and new elites gave birth to a variety of hybrid or transitional styles of dress, this suit being an outstanding example. Comprising a coat with narrow sleeves and a straight, cut-away skirt, a short vest or gilet and a pair of breeches that covered the legs below the knees, it recalls the cool Neoclassicism of the Enlightenment. At the same time, its simple lines and complete absence of decoration reflects the Anglomania that had been a feature of male fashions in France since the 1740s, but which came to the fore in the 1780s. The opulence and frenzied frivolity of Ancien Régime court dress or habits à la française, however, remain in its luxurious fabric and its lurid, effervescent color. Its stand-up collar is also a vestige of the old order, but its exaggerated height anticipates the style of the Incroyables. Like these giddy young men of the mid- to late 1790s, the wearer of this suit was almost certainly an élégant, an 'enlightened' aristocrat who hid his anti-Jacobin tendencies by adopting the puritanical design vocabulary of the republicans.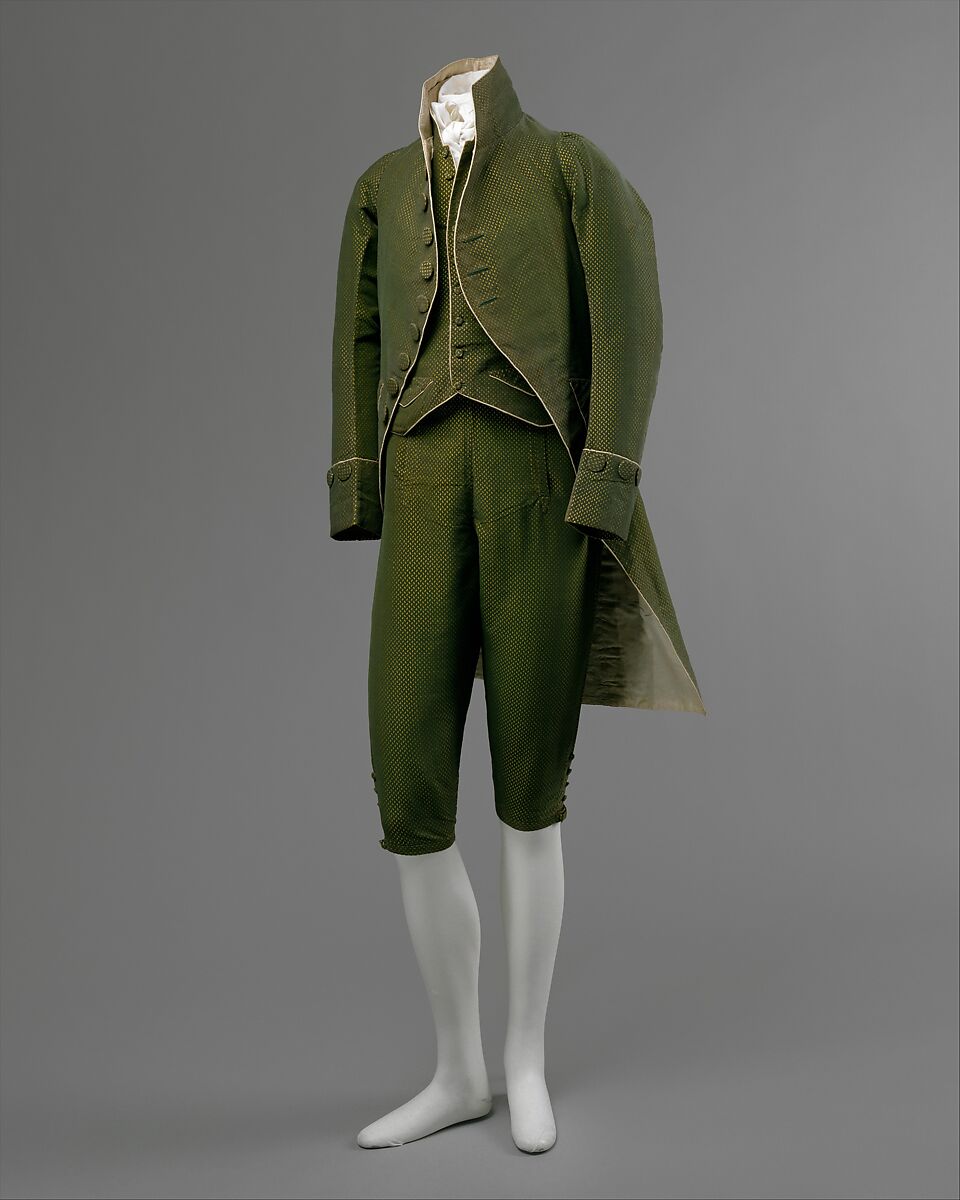 This artwork is meant to be viewed from right to left. Scroll left to view more.